News & Events
Young Enterprise Club of St. George's School Donates back to School
Wed, 30 Nov 2011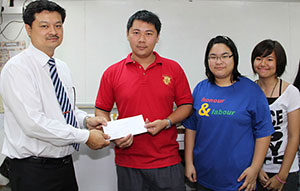 The Young Enterprise Club (YEC) 2011 of Saint George's School which comprised mainly of students in Year 9 to Year 11 has donated part of its annual profit in the form of cash back to the school's fund yesterday (30th November 2011). The donation, in the form of cash was handed over by the club's advisor, Mr. Chak Wang Hoong to the Deputy Principal of Saint George's School, Mr. Loo Kuan Lein.
Also present were the Head of Co-curriculum, the Head of Secondary and members of the Young Enterprise Club 2011.
During the ceremony, the YEC 2011 members also received their respective shares (in the form of cash also), which they had bought at a cheaper bargain at the beginning of the year. Special bonus amounting up to B$50 each was also rewarded to a few students, whom have been dedicated to the club.
Since its re-establishment, the YEC 2011 has always strived to nurture the younger generation into 'making' money by organizing several activities which include selling soft-drinks, foods, candies, flowers, and even 'painted' eggs on several auspicious occasion.
"Next year, I hope the YEC 2012 members will work even harder so that they (the students) can waive off at least a month school fee!" said the club's advisor.