News & Events
Ex-St. Georgians Give Motivational Talk
Mon, 4 Jun 2012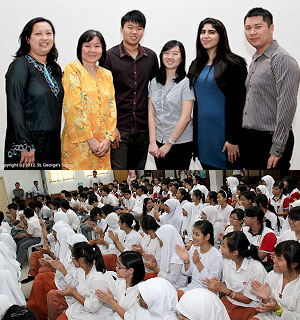 Top scorers in the 2011 'A' Level examinations, Nikita Ashok Ramchandani, Jasmine Wong Jia Yi and Lee Kah Hung were invited to give a motivational talk to all Year 9, Year 10 and Year 11 students of St. George's School.
Nikita Ramachandani and Lee Kah Hung were recent recipients for the Cambridge Outstanding Achiever Awards in the Brunei-Cambridge GCE 'A' Level October/November 2011.
Nikita received awards for the Top Ten in the World and the Top in Brunei Darussalam in Sociology whereas Lee Kah Hung received awards for the Best Across Three Cambridge International A Level (First Place) and Top in Brunei Darussalam in Accounting.
Jasmine Wong obtained an A* in Accounting, A in Biology and B in Mathematics.
The three speakers returned to their alma mater to share their experience on their 'O' level and 'A' level years, their study techniques and matters related to higher education. They also spoke on the importance of taking up positions of responsibilities in school in order to excel as an all-rounder. There was great motivation and encouragement given to the present batch of upper secondary students by these three speakers.
*Check out this event gallery by click here.