News & Events
Visit to Sekolah Menengah La Salle, Kota Kinabalu, Sabah
Thu, 17 Oct 2013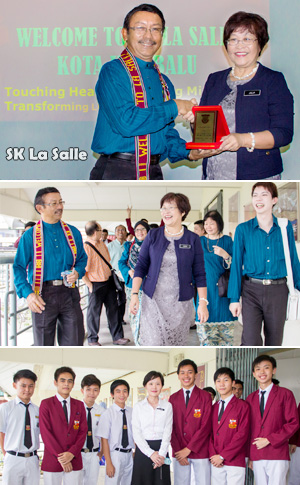 It was indeed a memorable day for teachers from St. George's School, Bandar Seri Begawan, Negara Brunei Darussalam when an educational visit was made to a 'premier' school, Sekolah Menengah La Salle, Kota Kinabalu, Sabah. The educational visit was made on 11 October 2013 and led by St. George's School Principal, Mr Janidi Jingan and accompanied by the Deputy Principal Mr NM Mubarak together with 25 teachers.
Sekolah Menengah La Salle, Kota Kinabalu is a mostly boys school with girls only at 6th form level. It is one of the oldest schools in Kota Kinabalu.
Our entourage was greeted warmly by SM La Salle's Principal, Madam Julia Willie Jock (ADK, ASDK), Senior Assistant (Academic and Administration) Puan Rahnah Fong and some teachers. At the school's auditorium, Madam Julia welcomed the visit by St. George's School and hoped for further cooperation between both schools. She also spoke on the common values and goals shared by both schools. A video presentation was shown of the history of the school, its location and the academic/co-curricular programs of the school. St. George's School reciprocated the welcome speech with the Principal Mr Janidi Jingan giving his thanks to Madam Julia for generously allowing the visit. This was followed by a video presentation on St. George's School, after which there was an exchange of tokens of appreciation by both school principals.
Later, the visiting heads and teachers were brought on a tour around the school. La Salle Secondary School, Kota Kinabalu is divided into two pieces of land. The Senior Block (Form 4 to Form 6), remains at its current location. The Junior Block (Form 1 to Form 3) has been relocated to the new ground to accommodate the increase in student enrollment.
There are currently around 1070 students in La Salle Secondary School. The visiting school also learned that La Salle Secondary School's niche area is in rugby, ten-pin-bowling and golf whereby her students have won numerous competitions in the co-curricular activities mentioned earlier.
The visit ended for the visiting school with the heads and teachers taking home with them the knowledge of the best practices of Sekolah Menengah La Salle, Kota Kinabalu and the thought that St. George's School is the first school from Brunei Darussalam to visit Sekolah Menengah La Salle, Kota Kinabalu.
*Check out this event gallery by click here.