News & Events
Kindergarten 3 Pupils of St. George's School Visit Berakas Post Office
Wed, 13 Nov 2013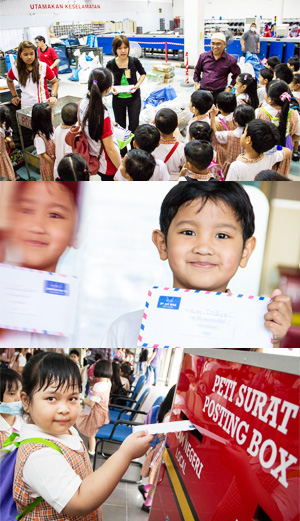 An educational visit to the Post Office in Berakas was made by 45 pupils from Kindergarten 3 on Monday 11 November 2013. They were accompanied by Teacher Lily Sim, the Head of Kindergarten and Support Teachers, Teachers Rachel Cornelia, Alice Siew and Dahliah Salius. Five Year 9 students were also on hand to assist the teachers and a few parents joined the group at the Post Office for extra supervision.
They were welcomed on arrival by an officer and staff at the Post Office. The Kindergarten pupils were brought to the various processing sections at the Post Office such as the EMS 'Express Mail Service' counter, the Parcel Collection Section, and the Sorting Section for letters and parcels for local and international distribution. They were also briefed on how the letters with post code are sorted out by machines.
As part of their 'hands-on' activity, the Kindergarten 3 pupils brought their letters, which they had written earlier in school, to be posted. Diligently, they queued up at the postal counter to purchase stamps, pasted the stamps onto the envelopes before dropping the letters off into the local mailbox. Apart from getting a 'first-hand' experience in getting to know the daily operating procedures at the post office, the pupils also got to learn the value of money and polish their mathematical skills in addition and subtraction.
A light refreshment was served, courtesy of the Post Office, before each pupil and accompany teacher was given a souvenir. The pleasant, educational visit ended with a group photo taking session.
*Check out this event gallery by click here.