News & Events
Cross Country Race of SGS
Fri, 23 Jan 2015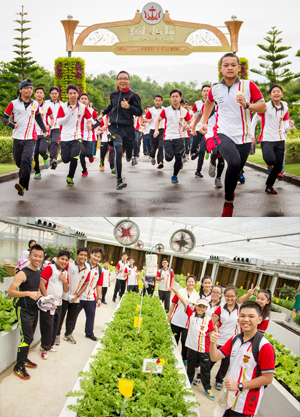 The first school term at St. George's School got off to a great start at the Bio Innovation Corridor (Agro Technology Park) Kampung Tungku on Wednesday, 21 January 2015.
Although seen by many as too early to test the stamina of students, the race saw many enthusiastic students from Years 4 up to Year 11 take up the challenge to run the almost 4 km route at the park. Many arrived before the stipulated time of 7 a.m.
There was no better way to start off the event than with a zumba session led by Teacher Jason Chung. More than 300 students were at the starting line. The Chairman of the Board of Governors of St George's School, Mr Anthony Liew, together with the principal, Mr Janidi Jingan flagged off the race. Runners let out a roar of anticipation as the starter's horn sounded and the race was run according to the age groups of Below 15 and Above 15 for both girls and boys.
St George's School took the first step in moving out of its regular route at Tasik Lama for its cross country race and held the race at the Bio Innovation Corridor for the first time. In his note to parents, the principal stated that Brunei Darussalam has many interesting places that our students do not know about. As part of the school's initiative to promote these places, the school has chosen the Bio Innovation Corrider as the venue for its annual cross country race this year.
The program ran as smooth as ever, with the Below and Above 15 Boys group races preceding the Girls group. Participants ran their best to score a point for their respective sports houses. Spirits were high and the event ended with students and teachers visiting the greenhouse at the Agro Technology Park.
*Check out this event gallery by click here.