News & Events
CONGRATULATIONS!
Mon, 25 May 2015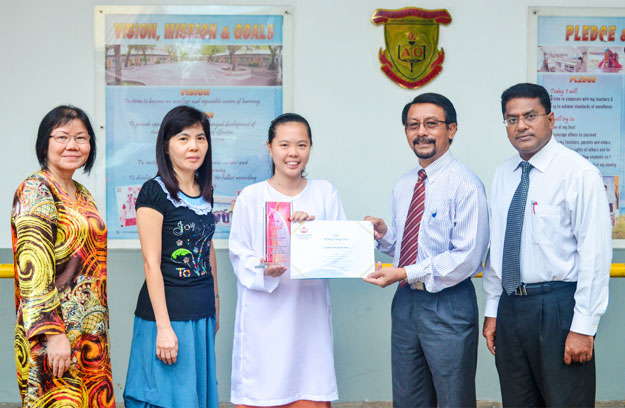 ANG WOAN YEAN brought pride and glory to St. George's School for receiving two prestigious awards for her excellent academic achievements in the Brunei Cambridge GCE 'O' Level Examination 2014.
On 10 May 2015, Woan Yean was honoured by the Rotary Club of Bandar Seri Begawan for her academic achievements with a score of 4A*, 1 A2, 2Bs and 1C in the past year's O-Level Examination. The Best Student award is aimed to encourage students to strive harder in their future studies.
Ang Woan Yean also was named a recipient of the 'Anugerah Pelajar Cemerlang 2014' for the GCE O Level 2014 category. This 'Excellent Student' Award ceremony was organized by the Private Schools Section of the Ministry of Education.
In the GCE O-Level Examination, Woan Yean scored A* grades in Mathematics. Additional Mathematics, Physics and Computer Studies. She obtained the A grade in Chemistry, B grade in English Language and Biology , and a C grade in Bahasa Melayu. Her excellent result enabled her to obtain a total aggregate of 9.
Currently, Woan Yean is a student of Maktab Duli Pengiran Muda Al-Muhtadee Billah.