News & Events
A Grand CNY Celebration to Welcome the Year of the Dragon
Thu, 26 Jan 2012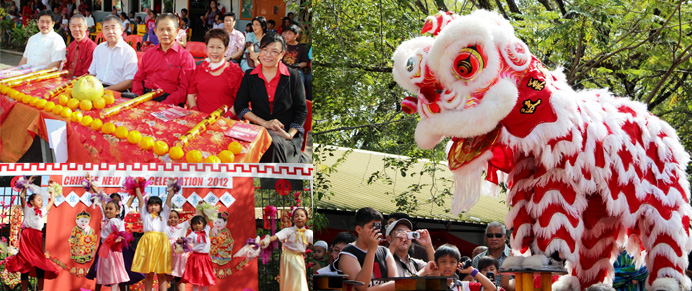 Three lions reared their heads to usher in the Year of the Dragon at St George's School in Bandar Seri Begawan on Wednesday 25 January 2012. They danced and dazzled their way to welcome the President of the Board of Governors, the Honourable Bishop Cornelius Sim; the Chairman of the Board of Governors, Mr Anthony Liew; St George's School board members, the Principal, Mr Song Kin Fha, invited guests, staff, parents and students for a Chinese New Year Celebration. The lion dance troupe from the Chinese Chamber of Commerce, Bandar Seri Begawan put up an extraordinary performance of acrobatic skills.
The principal welcomed the invited guests, parents and students in a speech. He also said that St. George's School is filled with students and staff from different multi-cultural background and celebrate different occasions together.
Excited parents and students were mesmerized by the feats of the magnificently decorated lions in their quest to reach for the lettuce and ang pow packets that had been tied to tree branches. The 'god of prosperity' was swamped by eager students wanting to obtain goodies that were given out as a sign of prosperity and good luck.
The event also saw performances and a 'ang pow' lucky draw for all kindergarten and secondary students. Some lucky primary students were given a school bag each. New Year songs were melodiously sung by Mrs Anthony Liew, wife of the Chairman of St. George's School, and Teacher Alice Ting.
The 'ang pows' were given away by the Honourable Bishop Cornelius Sim, Mr Anthony Liew and Mr Song Kin Fha.
*Check out this event gallery by click here.