News & Events
The Green Wave Project
Mon, 21 May 2012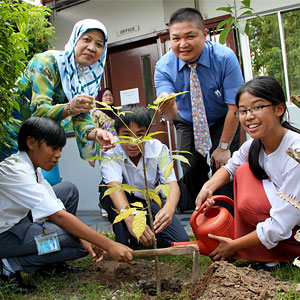 The Green Wave is an initiative project carried by Forestry Department of Brunei Darussalam to support the "International Day for Biodiversity" which brings awareness of the importance of guarding and preserving our earth.
Teachers and students were involved in the tree-planting project on the 21st of May 2012 to commemorate the World Forest Day which is celebrated yearly.
It is hope that this greenery project will somehow enhance the students' knowledge and understanding toward issues related to environment in particular.