News & Events
'Majlis Doa Kesyukuran Dan Tahlil' - Thanks Giving Prayer in SGS
Sat, 14 Jul 2012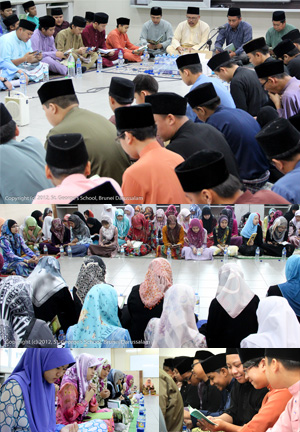 A special prayer session was conducted today, 14 July 2012, at St. George's School in conjunction with His Majesty's, Duli Yang Maha Mulia Paduka Seri Baginda Sultan dan Yang Di Pertuan Negara Brunei Darussalam, 66th birthday and the arrival of the first of Ramadan.
This "Majlis Doa Kesyukuran dan Tahlil" session was participated by all Muslim teachers and students in the morning. The welcoming speech was presented by Cikgu Haji Awang Damit bin Hj Metassan, followed by an introductory statement given by the principal, Mr Song Kin Fha.
In line with the school's mission and values and as a school serving parents and students of multi-cultural background, such prayer sessions are highly appreciated and welcomed by all teachers and students of St. George's School.
*Check out this event gallery by click here.