News & Events
St. Georges' celebrates Teachers Day!
Sat, 29 Sep 2012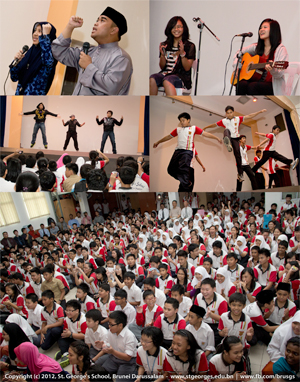 Days come and go by but there are some that are etched in the minds and hearts of teachers, one such occasion is the Teachers Day celebration at St. George's School, celebrated on September 29, 2012. It is on this day that students participate in unconcealed ability to shower their love, adoration and respect to their teachers.
This year 2012 St. Georges' students put up a sensational performance and expressed their gratitude to teachers in different ways. All the students who performed for their teachers truly meant it and found a deep reason to be there on stage. Performance included songs, dances, reciting poems in both in Malay and English and dramatized the important role of teachers in a student's life. Some of the creations were thoroughly enjoyed and appreciated by teachers. It was a gratifying to see the outgoing students presenting mementoes, with many hugs and "thank you s", with tears of joy and love. At the end of the show was the Principals inspiring speech, on how education is so important in life if one wants to measure his/her success.
*Check out this event gallery by click here.