News & Events
St. George's School Gives Back To The Community
Sat, 20 Oct 2012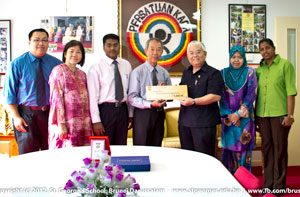 "A journey of a thousand miles must begin with a single step." This ancient proverb has been espoused by Persatuan Kanak-Kanak Cacat (KACA) since it officially opened its door in 1992 to Special Needs Children. To support its cause, St. George's School, Bandar Seri Begawan made a kind donation of B$1500/- [one thousand and five hundred dollars] to the centre on Thursday 25 October 2012.
On hand to receive the donation from the Principal of the school, Mr. Song Kin Fha, was the Managing Director of KACA, Hj Awg Abdul Alim bin Hj Awg Othman. Accompanying the Principal were the Deputy Principal Mr. NM Mubarak, Head of Secondary Mdm. Chew Lai Kwan, Head of CCA Ms. N. Sheeba and Head of ICT Mr. Steven Yap.
The donation was a part of a collection from a walkathon organized by the school on 30 September 2012. It has always been the school's stand to render support in whatever ways possible to lighten the load of any non-profit charitable organization as part of its community service.
*Check out this event gallery by click here.