News & Events
Post SPE Activities Keep Students of St. George's School Busy
Wed, 14 Nov 2012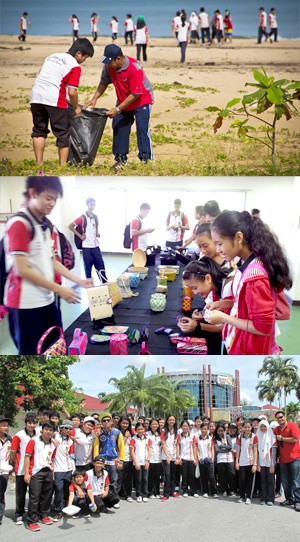 This is the time of year when examinations are done with and students have lots of time on their hands. With this in mind, the administrators and teachers of St. George's school have kept the Year 8 students busy with the various post-examination activities.
Trips were made to various places of interests around our beloved Brunei Darussalam. The first trip was made to tourist spots around Bandar Seri Begawan. Teachers Sheeba Charles, Bernard Lim and Steven Yap brought along 50 students on an educational tour to the Brunei Museum, the Royal Regalia and the Art and Handicraft Centre. Students got to learn about the fascinating history of our country.
A beach 'clean-up' was also carried out by 60 Year 8 students who were enthusiastically involved in the activity. Organised by the Bahasa Melayu and Ugama Departments of the school and led by Teachers Norazaman bin Hj Mejenis, Dyg Nurul Ashiqin binti Hj Abd Rahman and Dyg Lauyah bt Hj Metussin, all teachers and students who were present used their time well to help keep the beach clean. The beach 'clean-up' was a great success as bags of rubbish were collected and disposed of appropriately. This activity helped instill a spirit of helping to keep our environment clean and to perform community service amongst our students.
The Year 8 students were also brought on a trip to Oil and Gas Discovery Centre in Seria. Led by Teacher Eugenio Mendoza and accompanied by Teachers Victoriah Daniel, Luxman Sachithananthan and Eddy Hong, the students learnt about the history of oil and gas and viewed the science exhibits in the exhibition halls.
*Check out this event gallery by click here.