News & Events
Kindergarten Graduation & Merit Awards
Wed, 21 Nov 2012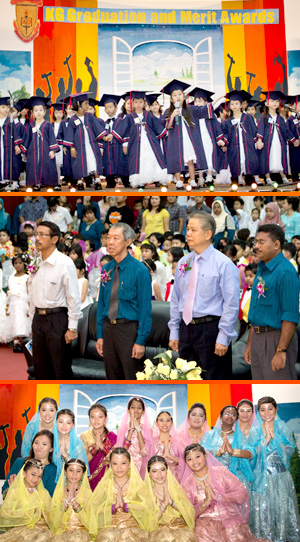 St. George's School held its Kindergarten Graduation & Merit Awards 2012 on 21 November 2012 at the Multi-purpose Hall, Fire and Rescue Department, Old Airport, Berakas. The occasion was graced by Mr Anthony Liew Vun Chiang, Chairman of the Board of Governors. Also present at the occasion were other members of the board of governors, invited guests and parents.
In the principal's message, Mr Song Kin Fha congratulated all KG3 pupils for successfully crossing over the first hurdle of their academic paths. The knowledge that they have gained in the past two years serves as an important basis for their subsequent primary and secondary education. He also informed that St.George's School Kindergarten curriculum has been designed in such a way that learning and playing are integrated into the daily classroom activities to include personal and social development, language and literacy, arithmetic and science, yet not forgetting the physical and creative development of a child. In the same note, Mr Song took the opportunity to reiterate that the school interprets education in terms of a life-long process of learning and its stand to develop and educate an individual to the fullest according to individual capability.
The occasion began with the presentation of academic awards to Kindergarten 3, 2 and 1 students. Graduation Certificates were then awarded to all KG3 graduates. The School Merit Awards saw students from both the primary and secondary sections receiving certificates for coming in first, second and third positions in their academic year. Merit awards were also presented to the school's top students in recognition of their outstanding achievements in the BGCE Cambridge 'O' Level 2011 examination. The recipients of this Outstanding Achiever Awards were Ak Muhamad Az-Zubair bin Pg Hj Masri, Chin Xin Ying, Wan Mohammed Naszreen bin Mohd Zainal Abidin Ariff, Dk Hannan Nabilah binti Hj Halidi, Al-Zahraa Elsayed Mohamed Abd Zaghloul and Mohammad Amir Najmi bin Hj Moksin. Students who excelled in co-curricular activities that include those representing the school or state at national and international levels were also duly acknowledged and awarded. Six students in the primary section each received certificates and a book voucher for their achievement in the Religious Knowledge subject.
The Leadership Awards were presented to the Head Boy and Head Girl of both primary and secondary sections, and to the assistant Head Boy and assistant Head Girl in the secondary section.
Performances livened up the occasion as students from Kindergarten 3,2 and 1 danced and sang. The Glee Club of St. George's School sang a medley of English and Malay Songs whilst the R&B group gave an energetic hip-hop dance. The finale saw a medley of cultural dances that showcased the diverse ethnic groups of students. The finale saw students performing a Chinese dance, a Filipina, an Indian dance and a Malay dance.
This occasion marked the end of a very significant phase in life for the KG graduands and the beginning of the next most important phase of a new life in their pursuit of a primary and secondary education. To others it marked the recognition of and appreciation for their academic and co-curricular achievements.
*Check out this event gallery by click here.