News & Events
1st Brunei Taekwondo Junior Championship (18th - 21st March 2013)
Wed, 3 Apr 2013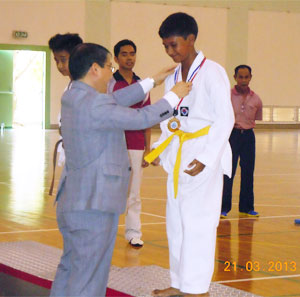 The finals and closing ceremony of the 1st Brunei Taekwondo Junior Championship organized by the Brunei Taekwondo Association (BTA) in cooperation with Department of Youth and Sports, Ministry of Culture, Youth and Sports was held at the Multi-Purpose Hall of the National Stadium Complex in Berakas on the 21st March 2013.
Mr. Choi Byung Koo, Ambassador of the Republic of Korea to Brunei Darussalam presented the prizes to the winners of the tournament.
Theeban Murugesan of St. George's School from Year 8A grabbed the First place in 10 - 13 years old (Boys) category.