News & Events
Educational Exhibition and Talks at SGS
Thu, 2 May 2013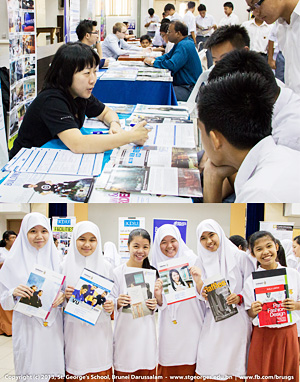 An Educational Exhibition was held at St. George's School on 29 April 2013 in the Parish Hall. Organised by L&P Educational Service, the exhibition saw the participation of 13 private institutions of higher learning from Malaysia and some are in affiliation with institutions from Australia and the United Kingdom.
Annually, St. George's School will invite such institutions of higher learning in collaboration with L&P Educational Service to give talks to the Year 10 and Year 11 students of the school in guiding the students in choosing the right courses and the right institutions in the students' pursuit of higher education.
Representatives from Monash University, Curtin University, The One Academy, RIAM Institute of Technology and a few other well-known institutions were on hand to answer questions related to the courses offered. Course materials were given out to interested students.
*Check out this event gallery by click here.