News & Events
24th Secondary Sports Meet 2013
Mon, 22 Apr 2013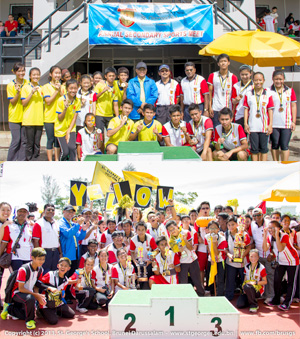 The annual St. George's School Sports Meet which was held recently saw St. Georgians of the secondary level gathered at Padang Kebajikan Stadium, Berakas.
The chief guest who graced the meet was Yang Mulai Awang Zaman bin Haji Gapar, Acting Senior Special Duties Officer and Head of Private Education Section, Ministry of Education, Negara Brunei Darussalam. Also present were invited Education Officers from the Private Education Section, the Chairman of St George's School, Mr Anthony Liew and spouse, member of Board of Governors, Mr Charles Shim, the school principal, Mr Janidi Jingan, deputy principal, Mr N.M Mubarak, teachers and staff.
Despite the grueling heat from the sun, the students valiantly marched past the guest of honour and sang the national anthem with zest. Spirits were high as the oath of Sportsmanship was taken by Mark Joseph Erfelua Facun, the Overall Best Male Athlete. The Overall Best Female Athlete was Alexandra Jacklya binti Dakius. The events were started with athletes running their best races.
Prizes were given to winning athletes by the guest of honour and other invited guests. Yellow House eventually emerged as the Overall Champion House 2013. Sports houses were also awarded for best team spirit, champion house parade, tug-of-war champion house and overall best athletes for both boys and girls categories.
Team spirit, comradeship and a great sense of pride for the school were prevalent on that day.
*Check out this event gallery by click here.