News & Events
St. George's Family day!
Mon, 20 May 2013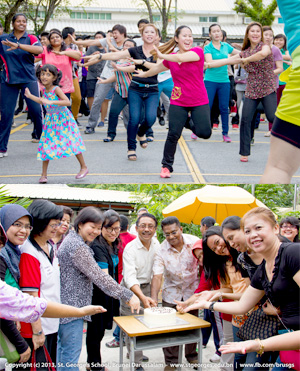 Friday, 17th May 2013 was celebrated as family day at St. George's School, Bandar. The event started at 2.00pm. Even though the weather literally rained on our parade, the show must go on and so it did!
The compound was filled with running children, chattering teenagers and excited parents-wondering what will be in store for them and their children. The principal started off the event with a welcome speech. "Studies have shown that a positive parent-teacher relationship helps your child feel good about school and be successful in school," he mentioned.
It was an afternoon packed with fun activities, games, talent show and potluck food. The highlight of the day was the Zumba dancing, led by the Art Teacher, Jason together with parents, teachers and students. The Zumba dancing was a huge hit; the crowd was so intrigued that dancing went on for 3 songs.
Next was the potluck where the food, beverage and cutlery were supplied by the generous parents, students and teachers of the school; various foods ranging from the exotic Indian cuisine to the Italian dishes and delicious homemade Malay dishes were brought and shared. People say food brings us all together. They were right! In that moment, you could feel the togetherness and family-oriented air lingering in the atmosphere from bonding over dishes; especially the mothers.
The day proceeded with more games that brought together and strengthened the bond between parent and children.
All in all the school was filled with laughter, light-hearted fun and also the catharsis of the loving emotion over family-time. It was definitely a day well-spent. Everyone went home with bloated stomachs and sense of intimacy. The event ended with a big bang, leaving the warm fire of lovingness kindling.
*Check out this event gallery by click here.