News & Events
Primary Inter-School Athletic Meet 2013 for Brunei Zone 1
Thu, 13 Jun 2013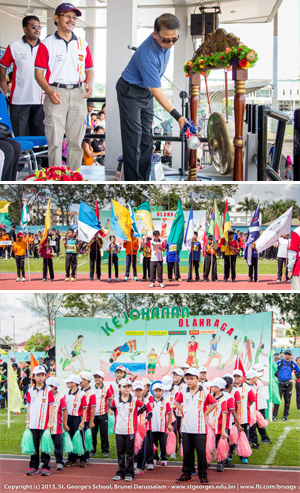 Organized by the Co-curriculum Department, Ministry of Education, the Sports Meet was held on 9 June 2013 at Kebajikan Stadium, Berakas, Bandar Seri Begawan. Hosting the Athletics Meet was St. George's School, Bandar Seri Begawan.
A total of 16 primary schools in Brunei 1 participated in the meet, of which 13 were government schools and 3 private schools. About 370 pupils participated in 23 events which were up for competition and participating schools were also appraised in a march past event.
The guest of honour at the event was Mr Anthony Liew Vun Chiang, Chairman, Board of Governors, St.George's School. In his speech, the principal, Mr Janidi Jingan, stressed on the importance of sports as they are fundamental to the intellectual, spiritual, physical and emotional development of students. He also stressed that sports serve as a platform to achieve the nation's aspirations for a healthy, active and dynamic population. The Ministry of Education also gave opportunities to talented and promising students in sport to excel at a higher level. The participants were also reminded to ensure that the spirit of sportsmanship and fair play was fully adhered to and upheld for the glory of sport. That great tradition in sports and competitions means playing clean and handling both victory and defeat with grace, style and dignity.
Chung Hwa Primary School, Bandar Seri Begawan emerged the Overall Champion School in the meet having won the Girls and Boys Champion trophies. The best male athlete was Awangku Abdul Haziq bin Pengiran Kamarudin of St. Andrew's School, BSB, winning 2 gold and 1 bronze medals whilst the best female athlete was Siti Nur Hidayatul Syazwani binti S Abdullah of Mabohai Primary School, winning 2 gold and 1 silver medals. The March Past Champion Trophy was won by St. George's School.
This Sports Meet was organized by the Co-curriculum Department as part of its annual sports activity program.
*Check out this event gallery by click here.