News & Events
Humanities Week Celebrated 2013
Sat, 20 Jul 2013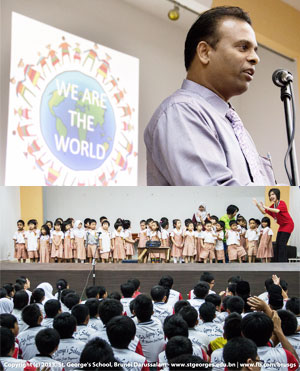 The Humanities Week for 2013 was celebrated on the 11th and 12th of June 2013. The celebrations commenced on the 11th June with the display of students' projects from the department subjects. It was well organized by teacher Jason Chong at the school library. Subsequently, teacher Eugenio held an educational movie show for the Year 7 and year 8 students at the parish hall which was aimed at imbibing the social values in the young minds. The celebration for the day ended with a presentation on Personality Development by Teacher Luxman for year 10 and 11 students. Students enjoyed and learnt about developing their personalities. They also took stock of their personality and learnt how to improve it.
The final day of the celebration, teacher Sheeba Charles organized an entertaining programme by combining students and teachers. The day started with a speech by the head of the department Teacher Jenkins. It was followed by song presentations, debates on a hot topic "Can the school allow the students to use mobile phone inside the campus", quiz competition with teachers and students teams and Malay teachers' entertained with Malay skit about the first day in school of a KG student.
All the winners were appreciated with prizes. The celebration ended with a gift of greeting card and cake to every student and teacher. It was a memorable celebration for the department and all secondary students.