News & Events
SGS Presents Donations To Orphans
Thu, 1 Aug 2013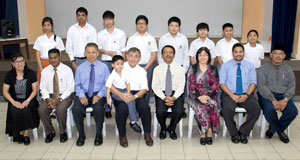 St. George's School presented cash donations to 10 students from its primary and secondary sessions at a special ceremony held on July 30, 2013, Tuesday.
Prior to the event, a campaign had been carried out to collect donations from the staff, teachers and students with the aim of sharing the upcoming Hari Raya festive joy with the less fortunate students.
The ceremony began with the opening remarks by the Principal Mr. Janidi Jingan. The Rev. Bishop Cornelius Sim handed over the donations to the orphans.
The Bishop in his address advised all the students to value relationship, and heartened the orphans that adversity in life makes individuals stronger and independent and that they should face difficult times with a brave heart.
It was a meaningful occasion to all present there and everyone was reminded that love is the only thing that you get more of by giving it away, in small acts of kindness as this. St. George's is indeed proud!
On hand to present the donations were the President of the St George's School Board of Governors, Rev. Bishop Cornelius Sim, the Principal, Mr. Janidi Jingan and Deputy Principal Mr. N.M.Mubarak.
Also present at the ceremony were Head of Secondary, Mdm Chew Lai Kwan, Head of Primary Ms. Ting See Eee, teachers, parents and pupils.