News & Events
Baiduri Bank Award
Wed, 20 Mar 2013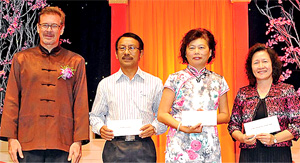 Baiduri Bank Group performed better in 2012 than in 2011 after recording $65 million in operating profit, which is an increase of 40 per cent from the previous year.
Last year's improved performance was highlighted by Baiduri Bank CEO Pierre Imhof during the Baiduri Bank Group Chinese New Year reception.
Pierre Imhof with recipients who received the donations on behalf of their respective schools
Foreign dignitaries, prominent businessmen, customers, partners and associates of the group made up part of the over 2,000 invited guests who turned up at the Empire Hotel and Country Club for the celebration.
The CEO also revealed, "Profit after tax for 2012 stands at $36.7 million, while total assets remain high at $3.3 billion, which also shows high liquidity and that we are ready to earn more for the local market."
Baiduri Bank Group will continue to deliver high-level services to customers by rolling out 11 new multi-functional ATMs.
For 2013, Baiduri Bank Group will launch more investment products to cater to the diversified needs of investors, and finance more projects, especially to the oil and gas sector.
Speaking of the group's achievements, the CEO remarked that the bank received three major awards in 2012, namely, Best Retail Bank Brunei 2012 by Asian Banker for the first time; Best Banking Group Brunei by World Finance for the fourth consecutive time; and Bank of The Year by the Banker, UK, for the ninth time.
The event also saw the awarding of donations to underprivileged students from three schools in the Brunei-Muara District. The donations were presented by Pierre Imhof, and received by Kho Guik Lan on behalf of Chung Hwa Middle School (BSB), Jane Keasberry on behalf of St Andrew's School, and Janidi Jingan on behalf of St George's School. A similar event was held in Seria on Friday for customers from the Belait and Tutong Districts.
Source: Borneo Bulletin on 3 March 2013