News & Events
15 receive Rotary Bursary Award
Mon, 25 Mar 2013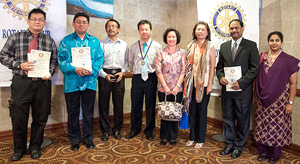 OUTSTANDING students and teachers from the three oldest private schools in the Sultanate were awarded with the Rotary Club BSB Bursary Awards yesterday in a ceremony held at Vanda Chinese Restaurant, Orchid Garden Hotel in Kampong Anggerek Desa.
Fifteen needy students from Chung Hwa Middle School BSB (five students), Chung Hwa Primary School Kiudang (two students) and St Andrew's School (eight students) were given recognition for their achievement not only academically but also for being active in extra curriculur activities.
Since 2002, the Rotary Club BSB has been awarding needy students with educational subsidies. The criteria for the award are that the student must come from a low-income family and hardly can afford their school fees.
Meanwhile, three teachers from St Andrew's School, St George's School and Chung Hwa Middle School were awarded the Best Teachers Awards 2013 for their dedication and hard work throughout years of teaching. The three teachers were nominated by their respective school principal.
President of the Rotary Club BSB, Jeffrey Yong in his welcoming remarks said that education is one of the most essential and important tools to get out of the vicious circle of poverty.
"To earn a decent and good living you must have education. This is because we are no longer in the agriculture and industrial age; we are living in the knowledge-based economy (Info-technology age). Acquiring knowledge through education is equal to acquiring moving assets for one's self' the more knowledge you acquire the more moving asset you have'" he said.
A total of $22,390 has been raised for this year's Bursary Award.
Source: March 25 2013 on Borneo Bulletin