News & Events
Teachers from St. George's School Makes Educational Visit To Sabah
Sat, 12 Oct 2013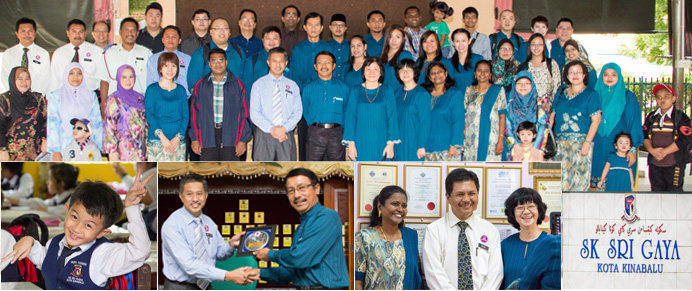 An educational visit to the Land Below the Wind was made by teachers from St. George's School, Bandar Seri Begawan from 9 October 2013 until 11 October 2013 during the recent school holiday. Led by the Principal Mr Janidi Jingan and accompanied by the Deputy Principal Mr NM Mubarak, a total of 25 teachers from both primary and secondary levels went on the educational visit to a 'high performance' primary school and a 'premier' secondary school in Kota Kinabalu, Sabah.
The first high performance school was Sekolah Rendah Sri Gaya, Kota Kinabalu, which saw 43 of her Year 6 students in 2012 obtaining 5As in the Ujian Penilaian Sekolah Rendah (UPSR) examinations or the equivalent to the Penilaian Sekolah Rendah (PSR) in Brunei Darussalam. This primary school is also well-known for its highly disciplined students and its forte in traditional dances. The entourage also visited Sekolah Menengah La Salle, Kota Kinabalu, an 'all boys' school except at its 6th form level and is well-known as a 'Sekolah Cemerlang' or 'High Performance School'. Apart from being excellent in examination results, this secondary school is also strong in co-curricular activities such as rugby, ten-pin bowling and golf. The teachers from St. George's School were able to learn the best practices of both schools and apply these practices in their classroom teaching and learning sessions.
Visits were also made to Manukan Island for beach activities, the Upside Down House, Kinabalu Park, Poring Hot Spring and Aquarium World. The trip was not just an eye-opener to the teachers of St.George's School on the best practices of high performance schools but also provided them an opportunity to foster closer ties with each other and with family members.
*Check out this event gallery by click here.