News & Events
Secondary Teachers' Day Celebration
Sat, 4 Oct 2014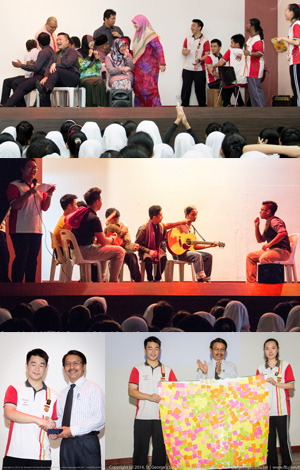 John Bosco, an educator and founder of a prestigious School, once said, "THE MOST BEAUTIFUL ORNAMENT IN THE HEART OF A CHILD IS GRATITUDE."
SGS students once again expressed their gratitude towards their beloved teachers on the 4th of October at the Parish Hall to celebrate Teachers' Day. Students treated their teachers with a morning of fun games where teachers participated (the winners got their prizes, of course), performances where the talents (honed by their very own teachers) were demonstrated and a quiz where teachers equally evinced their prowess by answering every question posed by the students (proving that they are worthy of being called MENTORS).
The Principal, Mr. Janidi Jingan, expressed his appreciation to the Prefects and to all the students for exerting great effort in coming up with a program to express their gratitude. He also emphasized that this year is also a celebration of 100 years of Brunei Formal Education. He shared his personal experience with the students, relating how a typical village boy managed to study well to achieve his dream, not only to become a teacher, but also an Assistant Director and now the Principal of St. George's School.
The highlight of the event was the handing over of a token of appreciation to their teachers and the sumptuous meal prepared for the teachers and students to partake as a family.
*Check out this event gallery by click here.