News & Events
Bedok Green Primary School, Singapore
Sat, 30 May 2015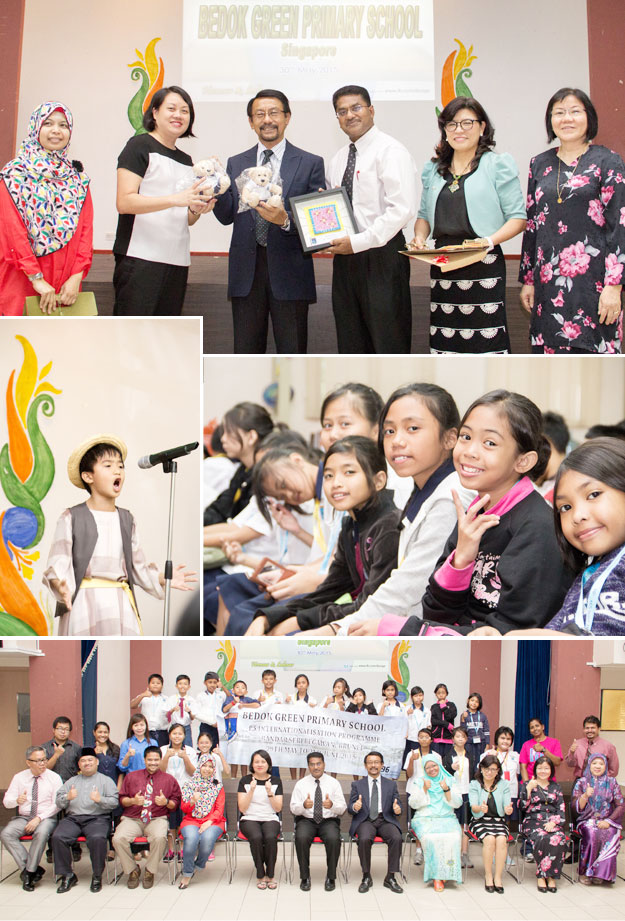 Bedok Green Primary School, Singapore, made an educational visit to St. George's School on 30th May 2015. The delegation of 17 students was led by two teachers from the school, Ms Neoh Wee Ling and Salinah binti Misri and also present was Hajah Nooradinawati binti Haji Zakaria of the Private Education Section of the Ministry of Education. On hand to greet the visitors were the Principal, Mr. Janidi Jingan, and the Deputy Principal, Mr. N.M. Mubarak, heads of Sections and Departments, and teachers of the school.
In his welcoming address, the principal expressed his gratitude that Bedok Green Primary School had chosen to visit St. George's School as it is undeniable that St. George's School would be able to learn much from them. Bedok Green Primary School has been hailed for excellence in not just academics, but also for discipline, student leadership, sports, music, and other curricular activities. In the reciprocal address, Ms Neoh thanked the Brunei Ministry of Education for helping organise this visit and also thanked the Principal and staff of St. George's School for the warm welcome and the programme lined up. Ms Neoh proceeded to give a brief background about Bedok Green Primary School and highlighted that she believed there would be mutual learning between both schools.
The programme was then opened with a welcoming dance, followed by a short briefing about St. George's School. Following that, there was a souvenir and certificates presentation ceremony and then a performance by the choir of the secondary students of St. George's School. The primary pupils then took the stage with three students performing their perfected fables in the form of storytelling and then the team of primary students who emerged winners of the National Choir Competition 2015 dazzled the audience with their winning song.To close the day, the delegates were led to selected classrooms to observe the teaching activities.
Bedok Green Primary School left with satisfaction and thankfulness towards St. George's School for being kind and informative hosts.
*Check out this event gallery by click here.