News & Events
TelBru Offers Scholarship to Needy Students of St. George's School
Wed, 5 Aug 2015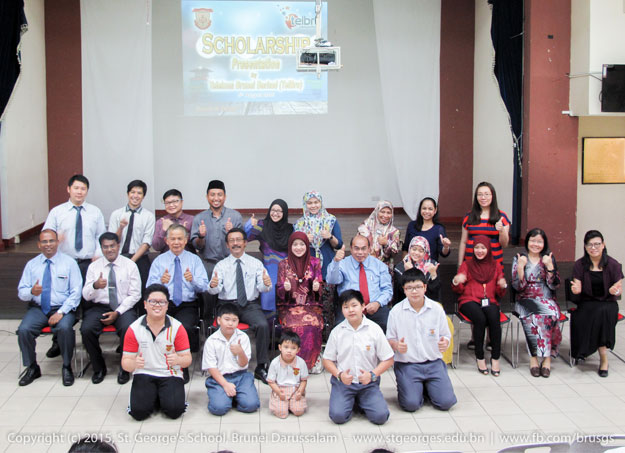 Telekom Brunei Berhad (TelBru) today made a donation to the St. George's School Scholarship Fund in a ceremony held at the school's hall. The scholarship donation was presented by Puan Hajah Noorhayati binti Dato Paduka Haji Abdullah, Acting Chief Financial Officer of Telekom Brunei Berhad (TelBru), in her capacity as temporary Acting CEO of TelBru. Also present during the event was Awg Haji Ideris bin Haji Ali, Head of Customer Care and Corporate Communications of TelBru. The donation will pay for the school fees of six students from the kindergarten, Primary and Secondary students' for a year of studies at the school.
In his speech, Principal Janidi Jingan thanked TelBru for making a positive response to the school's appeal for the scholarship fund. He said that most of the scholarship recipients are either orphaned, or have more than four siblings in the school, or the mother is the sole breadwinner in the family. With this scenario, it affects the parents of these recipients in their ability to pay their child's school fees on a regular basis. Principal Janidi also hoped that with this scholarship, the recipients will be motivated to work harder and improve their grades apart from actively participating in the co-curricular activities organized by the school.
On behalf of the School Board of Governors, staff and students of St. George's School, Principal Janidi thanked TelBru for supporting the students and parents in easing their financial capabilities in settling their school fees through this scholarship. TelBru's contribution is part of the company's many activities under its corporate social responsibility programme for the needy in the country.