News & Events
SGS Celebrates Hari Raya Aidilfitri 2015
Mon, 3 Aug 2015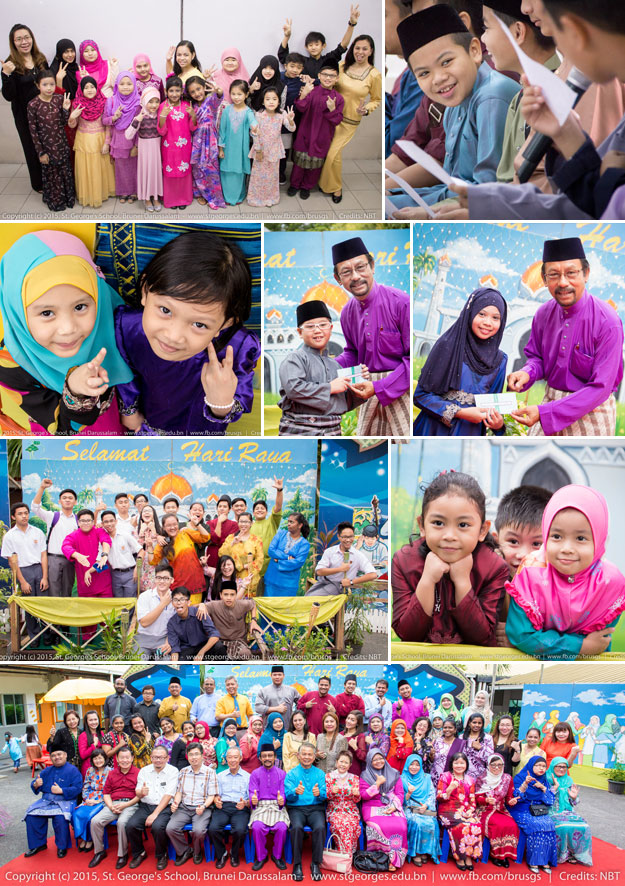 To welcome the arrival of the month of Syawal St. George's School held a joyous celebration on Saturday 1 August 2015.
The celebration started with a 'Doa and Takbir Hari Raya Aidilfitri' recited by Ustaz Mohidin bin Hj Momin.
In his welcoming speech, Principal Janidi Jingan, spoke on the significance of the celebration after a month of fasting by the Muslims in the month of Ramadan. He informed the audience that the act of fasting is intended to educate Muslims in spirituality, humility and patience. It is a time to cleanse the soul, focus on God, and put into practice selflessness. In his speech the principal also informed that the term Hari Raya Puasa or Aidil Fitri is derived from the Arabic name Eid-al Fitr, or the 'festival of the breaking of fast'.
At St. George's School, the students are very much privileged as they are able to celebrate and participate in major festive celebrations organized by the school. The principal firmly believes that the school is the best venue to promote understanding, and awareness of the similarities and differences amongst us as citizens of different ethnic and cultural backgrounds. Thus, respecting and understanding the religion and cultures of others, and the existence of a wide variety of traditions, customs and festivals, will lead to the practice of tolerance for each other.
This celebration is an annual event to foster closer ties amongst teachers, parents and students. It has always been the school's stance that any major festival or celebration of a particular ethnic group in the school be celebrated in the spirit of togetherness.
The occasion was graced by Mr Anthony Liew, the Chairman of the School Board of Governors and spouse, other members of the School Board of Governors, officers from Bahagian Pendidikan Swasta, Ministry of Education and Jabatan Pengajian Islam, Ministry of Religious Affairs, ex-principals of St. George's School and invited guests. Also in attendance were the Heads of Sections, teachers, parents and students.
Parents, guardians and students participated in the joyous occasion by donating a wide array of delicious festive food, cakes and drinks. Teachers, parents and students, dressed in their finest Hari Raya costumes, took part in singing festive songs while enjoying their scrumptious meals. There were also prizes for the best dressed students and the best dressed teachers in traditional Hari Raya attire. Friendly competitions such as wearing a shawl for non-Muslim female staff and wearing the 'sinjang' by non- Muslim male staff entertained everyone. With festive Raya songs in the air, the celebration gave everyone, parents included, a chance to mingle with and to greet each other in the spirit of Hari Raya.
*Check out this event gallery by click here.