News & Events
SGS Welcomes La Salle Secondary School, Kota Kinabalu
Sat, 17 Oct 2015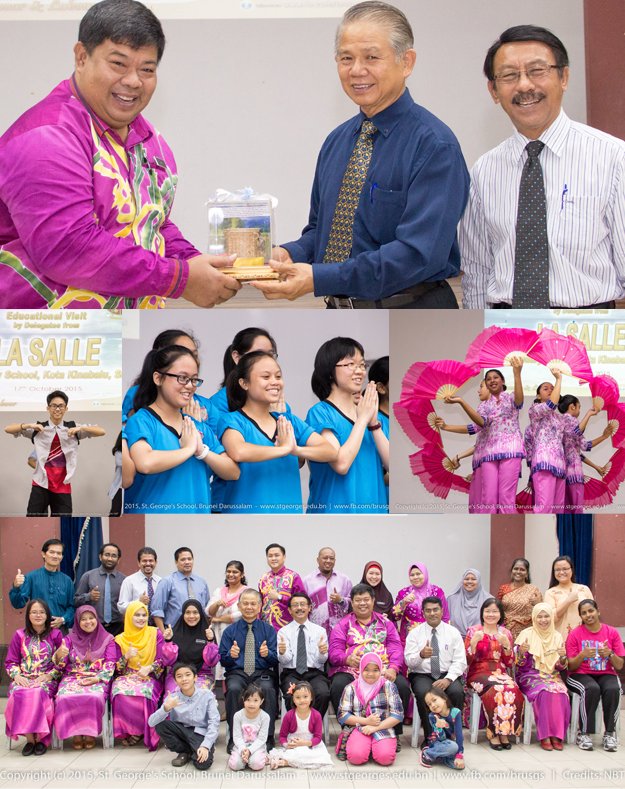 Twelve teachers from La Salle Secondary School, Kota Kinabalu, made a reciprocal visit to St. George's School (SGS), Brunei Darussalam. The delegation from Kota Kinabalu was led by Mr Safri Jefferi, Senior Assistant (Student Affairs).
The occasion was also graced by Mr Anthony Liew Vun Chiang, Chairman of the School Board of Governors, the Principal of SGS Mr Janidi Jingan, the Deputy Principal of SGS Mr NM Mubarak, Heads of Sections, teachers, students and accompanying family members of the delegation.
In his welcoming speech Mr Janidi Jingan expressed his sincere gratitude to La Salle Secondary School for the warm reception and hospitality given by the teachers and students of La Salle when St George's School visited La Salle Secondary School on 11 October 2013. Mr Janidi informed the guests that SGS prides itself with its multiracial staff and students. The wealth of diverse cultures and communities have contributed to SGS's unique identity. The 55 teaching staff and 10 support staff come from different nationalities from the ASEAN region and the Indian subcontinents. The guests were also enlightened on the academic achievements of SGS students in public examinations and the various co-curricular activities organized by the Ministry of Education, Brunei Darussalam. Before Mr Janidi ended his speech, he thanked Cik Wan Noraishah binti Wan Mohamad Isa of La Salle Secondary School, for making the visit possible.
The visiting school teachers were then treated to a short video presentation about SGS. The programme also saw the exchange of souvenirs by both schools. The esteemed guests were also treated to a choral speech presented by Year 9 students, a Chinese Kite dance by Year 7 students and a modern hip-hop dance by some very energetic secondary students of St. George's School. A group photo session was conducted before the guests were brought around the school on a guided tour, after which refreshments were served to the guests.
St. George's School would like to thank our guests from La Salle Secondary School, Kota Kinabalu for their reciprocal gesture and the school hoped that they would have a pleasant and enjoyable experience in Brunei Darussalam, the 'Abode of Peace'.
*Check out this event gallery by click here.