News & Events
SGS Participates in the World's Largest Lesson
Tue, 20 Oct 2015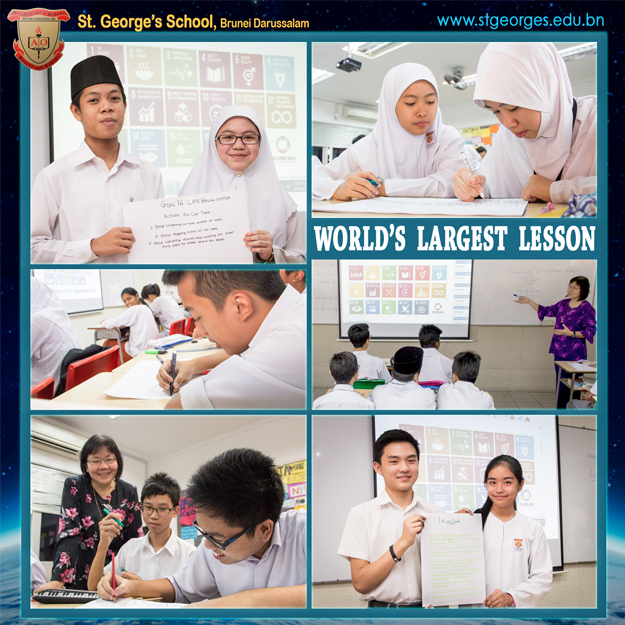 For the first time in history, schools across the world joined together from 26 September 2015 till 5 October 2015, to deliver The World's Largest Lesson. The objective of this activity is to educate students about the United Nation's (UN) Sustainable Development Goals (SDGs), using resources co-created by teachers and education specialists.
The Sustainable Development Goals (SDGs) are a new, universal set of goals, targets and indicators that UN member states will be expected to use to frame their agendas and political policies over the next 15 years. The seventeen SDGs are: end poverty and hunger, ensure healthy lives and promote wellbeing for all, ensure quality education and gender equality, ensure clean water and sanitation, ensure access to affordable and clean energy, promote decent work and economic growth, build resilient infrastructure, promote sustainable industrialization and foster innovation, reducing inequalities, sustainable cities and communities, ensure sustainable consumption and production patterns, climate action, conserve life under water and life on land, promote peace and justice, build strong institutions and partnerships for the goals.
St. George's School (SGS) participated in the World's Largest Lesson (WLL) program, involving a total of 102 students from Year 9A and Year 10. Two themes were selected: Poverty, and Education, skills and jobs. The SDGs were No Poverty and Quality Education. The lessons were conducted during the English lesson according to the common lesson plans obtained from the WLL's website. The titles of the lesson plans were 'Education Can Transform the World' and 'Global Poverty Requires Local Solutions.'
Through these lessons, the students learnt that education empowers people to improve their lives and that poverty can be eradicated through education. These WLL activities have achieved its objective in communicating the United Nation's SDGs, in fostering global citizenships and in supporting students learning across a range of subjects.
St.George's School will continue to implement the WLL in classroom lessons in its commitment to helping the United Nations to educate students about its Sustainable Development Goals.
*Check out this event gallery by click here.