News & Events
St. George's Students Win at Mitsubishi ASIAN Children's Enikki Festa
Thu, 28 Jan 2016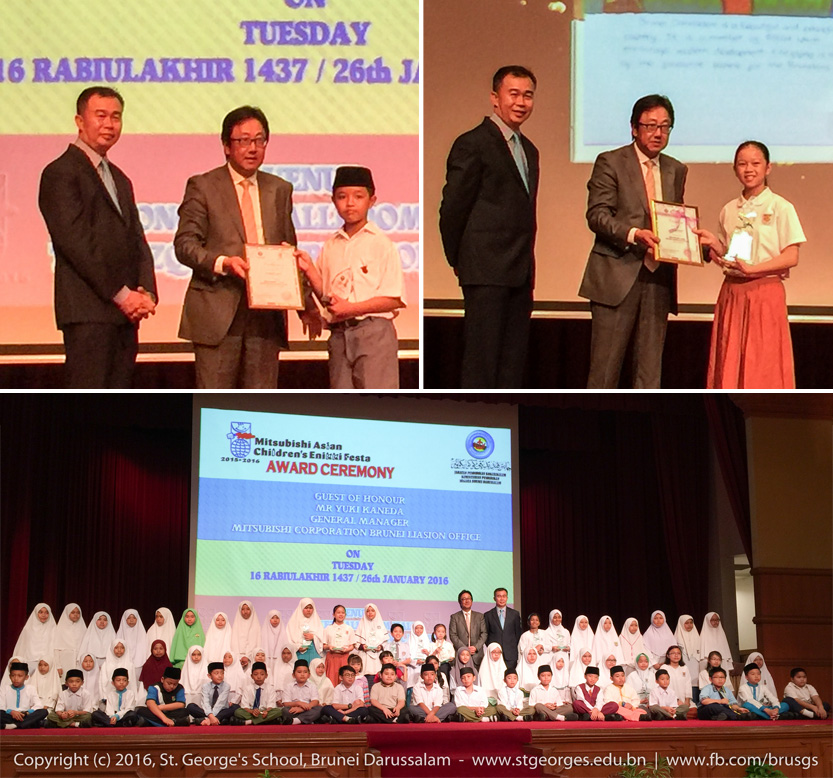 Cely Jelity Cristy and Md Haziq bin Jaafar of St.George's School, Bandar Seri Begawan, received awards from Mr Yuki Kaneda, General Manager of Mitsubishi Corporation Brunei Liasion Office. The award ceremony for the festa was held on 26 January 2016 at the Songket Ballroom Hall, The Rizqun International Hotel.
The Enikki Festa is designed to provide an opportunity for children worldwide to understand Asian people's daily lives through illustrated diaries. In Japan there is a custom of creating 'Enikki' or illustrated diaries. These diaries portray daily events and thoughts in the form of a picture and a short essay. In an 'Enikki', the author not only writes about things he/she has seen, heard, done or thought, but also describes his/her rich humanity and sensibility. Since pictures can transcend language and literacy boundaries, 'Enikki' can be a very effective means of cross-cultural understanding.
A total of 70 private and government schools sent in entries but only eight entries were chosen for the 'Best Entry Award' and there was one winner per school for the Excellence Award. The top eight entries will then be sent to Japan to be judged by the International Screening Committee .
Cely Jelita Cristy won the Best Entry Award and Md Haziq bin Jaafar was chosen for the Excellence Award. St. George's School has once again been honoured by the successes of her students.
*Check out this event gallery by Click Here.