News & Events
SGS Goes to the Philippines
Sat, 9 Apr 2016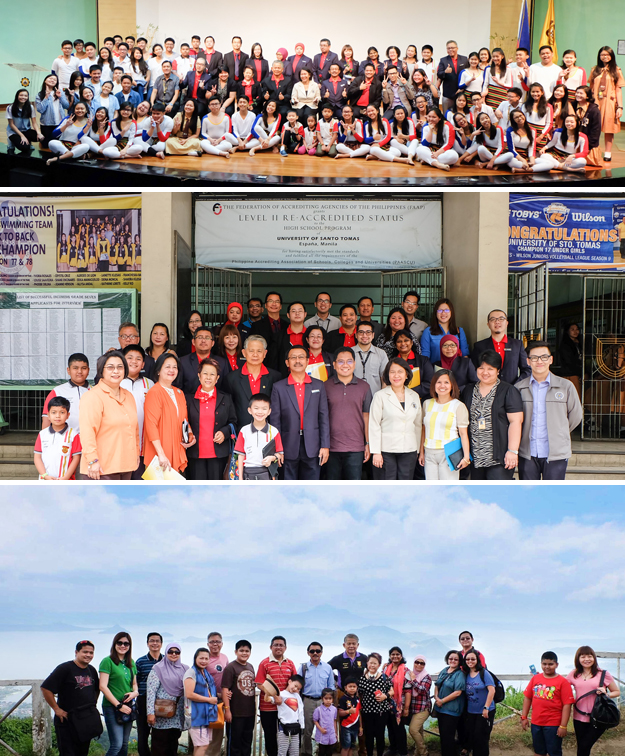 The first term holiday was a well spent holiday for some St. George's School teachers and their family. A well spent one for they opted to visit two schools, The Singapore School Manila, an international school that caters for Pre-school to 'O' Level students, and the Junior High School Department of the University of Santo Tomas, the oldest university in the Philippines established in 1611.
"This trip is part of the on-going Professional Development Program to keep SGS teachers abreast with the current educational development by sharing best practices," as Mr. Janidi Jingan, Principal and the head of the delegation, put it.
It was a combination of Educational tour and recreation with shopping. Both schools warmly welcomed the delegates and toured them around the school. The group was given the chance to observe some classes as well. One of the highlights of the visit was the jaw-dropping performances by talented students from the Junior High School Department UST who like SGS Glee Club, garnered prizes from choir competitions.
During the visit, we were humbled by the warm welcome and hospitality received from the principal, teachers and students of Junior High School Department, UST. It was indeed an experience we can never forget, particularly when we were able to watch the impressive performance from Junior High School students, observe the actual classroom teaching and learning, and tour the school facilities.
We also had fruitful discussions with the Principal and Heads of Department of Junior High School and the Principal of Senior High School, with regard to the current changes of the educational system and the possible effects on our Filipino students in Brunei. The doubts and the questions raised by Filipino Parents to St. George's School have finally been clarified and answered. Thanks to the administrators of UST for clarifying those issues.
We were also delighted to have had the opportunity to pay a courtesy call with the Undersecretary, Partnerships and External Linkages, Department of Education, Honorable Mario A. Deriquito, during which we had very meaningful discussion.
The group also enjoyed the theme parks in Manila like the Ocean Park, the historic Intramuros and Luneta park where Philippine heroes like Jose Rizal were imprisoned and executed. They were able to escape as well the heat of Manila by traveling to the cool City of Tagaytay where the famous Taal volcano can be found and where they were treated with fresh tropical fruits and the delicious and newly baked "buko pie" (young coconut). The jeepney ride was another worth remembering experience to some of the teachers aside from the Filipino food that they enjoyed.
The tour lasted for six days but for some it seemed not enough to explore Manila. St. Georgians were spared from the burning heat of the sun and the disappointing traffic jam for they were blessed with cool weather and smooth journey during the entire visit. It really is MORE FUN IN THE PHILIPPINES.