News & Events
29th Novelty Games and Primary Sports of SGS
Wed, 10 Aug 2016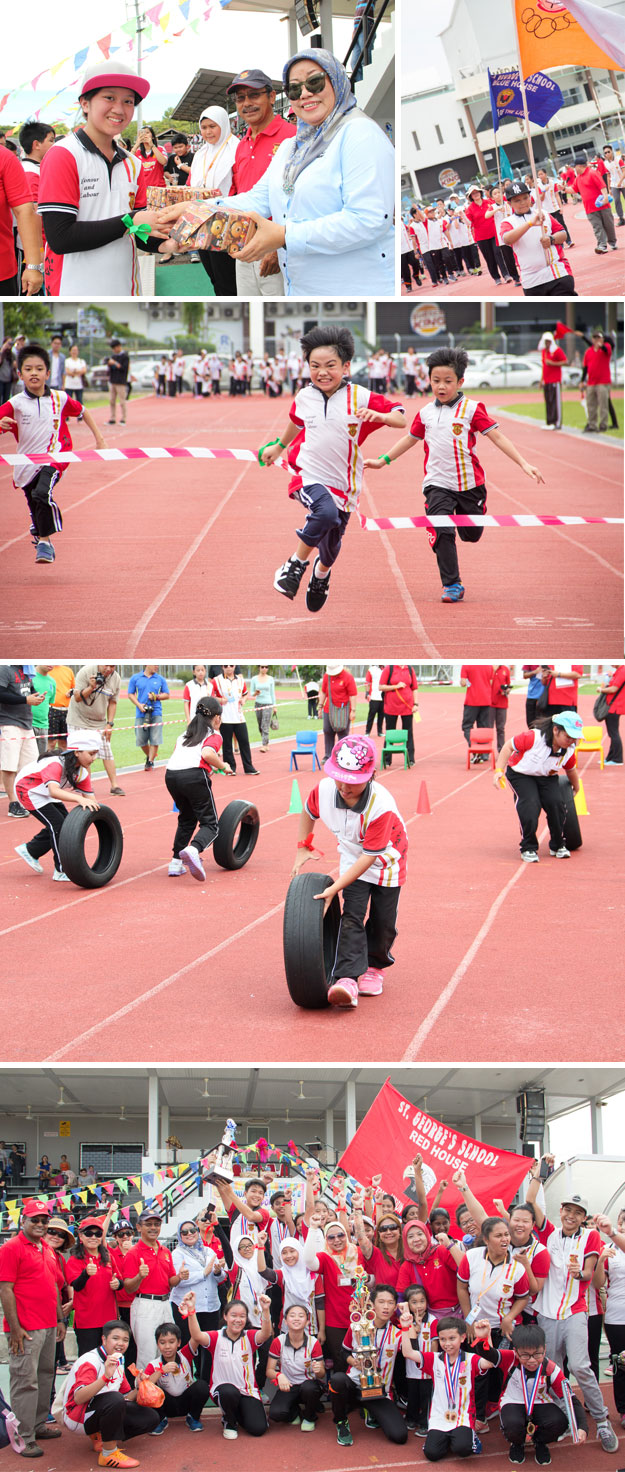 St George's School held its 29th Novelty Games and Primary Sports on Sunday 7 August 2016 at Kebajikan Stadium, Berakas. The sports event was opened by Yang Mulia Dr Habibah binti Sion, Acting Deputy Director, Department of Planning, Development and Research, Ministry of Education who was the Chief Guest. Anthony Liew Vun Chiang, Chairman of School Board of Governors of the school and other board members, invited guests and parents were also welcomed by the Principal Janidi Jingan and the Deputy Principal N.M Mubarak.
In his speech Principal Janidi noted that physical exercises have become less important among school children, owing to children being confined indoors for long periods of time watching television or being at the computer. He stressed that it is important to know that physical exercises can have an extremely positive influence on children and the benefits of physical exercise can be long lasting. In a 2013 study by the Ministry of Health, Brunei Darussalam, 33.5% of children aged five to 19 were overweight while 18.3% were obese. The Ministry of Education is in the process of reviewing the school curriculum to promote healthy lifestyle and combat obesity.
Principal Janidi also spoke on sports which promote a spirit of social interaction, cooperation and friendship. Sports help children think critically and solve problems, build self-discipline, trust, respect for others and leadership values. He urged all parents to support the school's co-curricular activity programs by encouraging their children to take part in the various physical activities available in school.
The participating students were reminded to do their best and to uphold the sporting spirit irrespective of winning or losing. Their participation in the event should be their priority as it shows support for the school activities. He thanked everyone for their positive contribution in ensuring the smooth running of the sports event.
It was indeed an exciting time for the kindergarteners as they raced against each other for the coveted prizes. The kindergarteners ran through courses set by their class teachers. There were the Beach Ball Race, the Three-legged race, The Zig-Zag Ball Relay, Puzzles Games and The Sock Race. The Primary pupils were not left as they too ran the novelty games course with 'Watch Your Step' relay, Order's Up Relay, Tyre Roll Race, Fishing the Bottles, Leg Go Robotics, Saucer and Ball, Ring the Cone, Golf Ball Spoon Relay and Balloon Pop Relay.
The track and field events saw both boys and girls competing in the 50 meters, 100 meters, 200 meters and the 4x100 meters relay. Each athlete gave his or her best in the pursuit of the gold medal.
Not to be left out, parents and teachers took part in their own race too.
It was a fun-filled day for everyone but more so for the kindergarteners and primary pupils. Prizes were won, speeches were given, losers were good-sports and winners were celebrated.
St.George's 29th Novelty Games and Primary Sports Day was indeed an exciting and memorable one.
*Check out this event gallery by click here.