News & Events
IET Do-It-Yourself Faraday Challenge National Finals 2016
Thu, 18 Aug 2016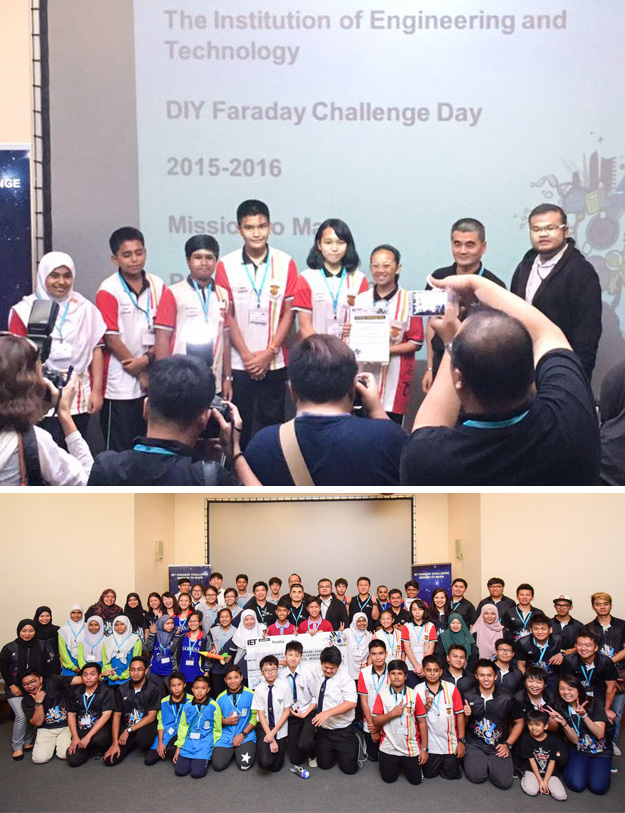 The IET Brunei Young Professional Section (YPS) and Oil & Gas Discovery Centre (OGDC) successfully conducted the national final round of the IET Faraday Do-It-Yourself "Mission to Mars v2.0" Challenge whereby teams, comprising students aged 15 years old and below, from St George's School, Chung Hua Middle School BSB, Sek Men Pengiran Anak Putri Rashidah, Maktab Sains PSBS, Seri Mulia Serjana School and St Andrew's School competed for the champion title.
The final round was held at the Oil & Gas Discovery Centre, Seria, on 14 August 2016. In the first quarter of 2016, the IET Brunei Young Professional Section (YPS) and Oil & Gas Discovery Centre had jointly organized and delivered IET Faraday Do-It-Yourself "Mission to Mars" Challenges in six selected schools in Brunei Darussalam. The Faraday Challenge Day is a one day STEM activity designed for six teams of six students.
Secondary Students were given tasks as engineer specialists recruited by a mock company called, 'Make it 2 Mars', to establish a human settlement on planet Mars by 2023. Students were asked to design and construct a rocket which will transport supplies via Earth orbit to the astronauts on Mars, as well as building a system to transport their rocket to the launch site for testing. The aim of the activity is to give students more opportunity to research, design and improvise the prototype solutions to genuinely tough engineering problems they had encountered from the previous challenges in their individual schools.
The event is set up and run by the IET team of STEM professionals to give teachers the opportunity to encourage the students to love Science. This is in-line with the IET Brunei vision and mission in promoting the general advancement of science, engineering and technology and to facilitate the exchange of information and ideas on these subjects amongst the general public especially students.
In brief, the students' tasks for the "Mission to Mars V2.0" challenge during the final are to:
1) Design and build a prototype air-powered rocket to carry payloads (one heavy and one fragile) and launch above 3 metres.
2) Design and build a prototype transport system with lightings to transport the rocket from the rocket workshop to the launch site in a straight line and stop after 3 metres.
3) Present and test the prototype transport system and rocket as a whole.
The whole exercise gave the students insight into the roles and responsibilities of an engineering team as they not only attempted to create their prototypes but then had to justify their ideas, costs and implementation plans to the judges. This challenge also encourages the development of students' problem solving, team working and communication skills.
St. George's School emerged first runner up in the competition and received a BND$180.00 cash prize as well as certificates. The prizes were presented by Simon Leong Kian Ann, the IET Brunei Darussalam Chairperson for 2014-2016 Session.
*Check out this event gallery by click here.