News & Events
SGS Kindergarten visit to Piccolo Fratini - Being little chefs for a day!
Sat, 3 Sep 2016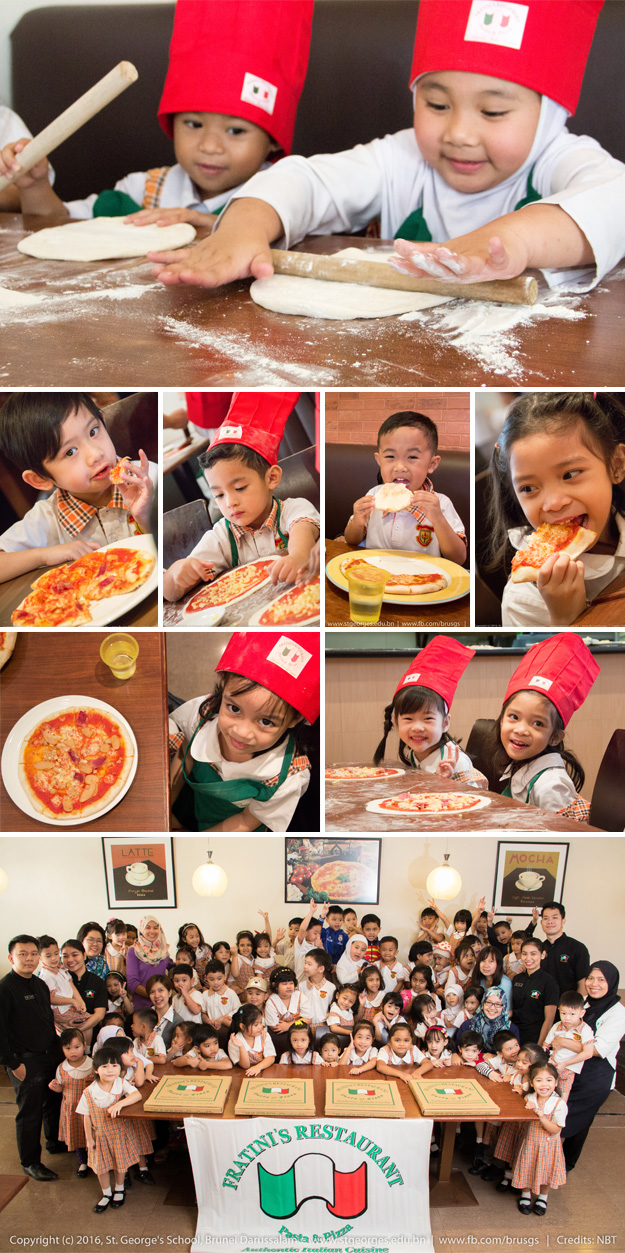 It was not a normal Thursday morning for the pupils of KG 2. Months before, they learnt about healthy and unhealthy food. Days before the visit they kept on talking about the school visit to Piccolo Fratini to make their own pizza and that day finally arrived on the 1st of September 2016!
Upon arrival, the kids were greeted with warm smiles by the manager and staff of Piccolo Fratini. There were green aprons and red toques already set on the table. It was such a cute scene to see them try to put on and fit into their mini chef uniform and feel what it was like to be a chef. To add on more to the experience, each of them was provided with his or her own dough, mini roller and plates that contained toppings for their pizzas. They were quick to familiarize themselves with the toppings of the pizzas which included diced chicken meat, sausages, beef rashers and cheese.
It was definitely a hands on experience for them as they got to roll their pizza dough to make them big and flat and afterwards sprinkle the toppings on their own. The friendly staff were also around at each of the tables to demonstrate and supervise them. They were also served with a glass of water in plastic cups and after numerous whines and complains of "Teacher, I am hungry!" and "Is the pizza done yet?", they finally got to indulge in their very own self-made pizza.
The visit ended with a group photo with the pupils of KG 2 and their teachers as well as the manager and staff of Piccolo Fratini. Other than bringing home their box of pizzas, hopefully, they had an insightful experience of not just eating the pizzas but also by learning to make them step by step at an early age.
Written by A'jibah Abu Hanipah.
*Check out this event gallery by click here.