News & Events
Staff Development with Motivational Speaker at SGS
Wed, 28 Sep 2016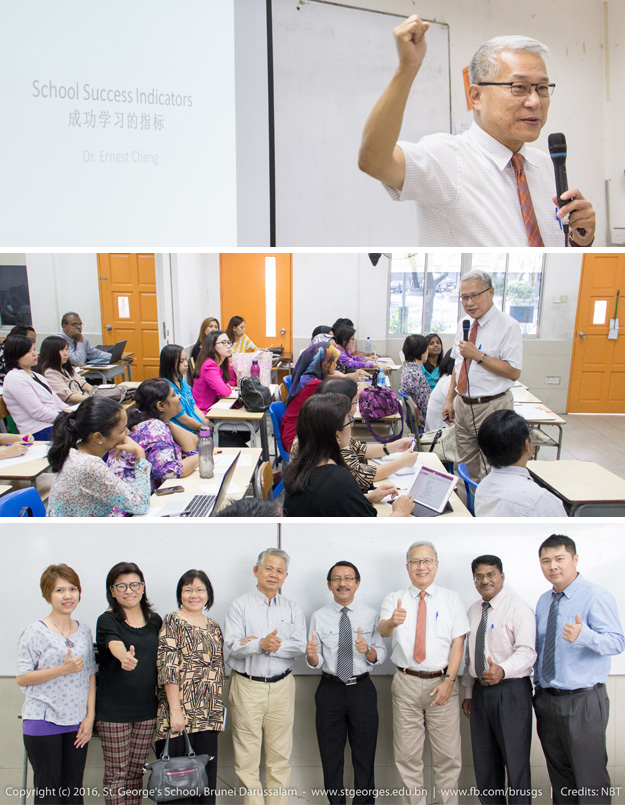 On Friday, 23rd September 2016, Dr. Ernest Cheng, a passionate motivational speaker from Toronto, Canada, presented a workshop on areas of interests to the staff and teachers of St. George's School. The topics that were presented were School Success Indicators, 15 Ingredients for a Healthy Elementary School and The 20 Ingredients for a Healthy High School Education.
Dr Ernest Cheng pointed out that 'schools do matter but the home matters more'. Acting like a conveyor belt, at each stage of a child's education, Value is added. He made a comparison of two schools which had their own 'centre of excellence'. St.Andrew's College, Canada focused on Sports while the Democracy Prep Charter School, New York, promoted the ethics of Korean schools.
The 15 Ingredients for a Healthy Elementary School gave insight into what parents and teachers can give to their kids or charges to help them in their mental and academic development. Topics like Curiosity, Independence, the 3 R's, Communication, Citizenship, Habits, Hygiene, Alertness, Sociability, Expressiveness, Relationships, Manners, Active Lifestyle, Work Ethic and Spirituality were explained and elaborated by the speaker.
Dr Ernest Cheng also spoke on the20 Ingredients for a Healthy High School Education. The following topics were elaborated on : The Love of Learning, Independence, Achievement, Study Skills, A Learner who Never Asks a Question, Tech Savvy, General Knowledge, Foreign Language, Self-Knowledge, Moral Compass, Self-Identity, Mission, Expressiveness, Sense of Community, Family, Fitness and Nutrition, Interests and Hobbies, Etiquette, Work Ethics, Vocation and Optimism.
The workshop was made possible by Ms Dawn Lee, manager of LA Vida Bhd, a local non-profit organization dedicated to strengthening bonds among individuals and families. Ms Dawn Lee was assisted by Ms Janet of LA Vida Bhd. Apart from the school teachers and staff who were present for the workshop, the Chairman of St George's School Board of Governors, Mr Anthony Liew Vun Chiang, the principal Mr Janidi Jingan and deputy principal Mr NM Mubarak were in attendance too.