News & Events
KG 1 visit to Fire and Rescue Department
Sat, 22 Oct 2016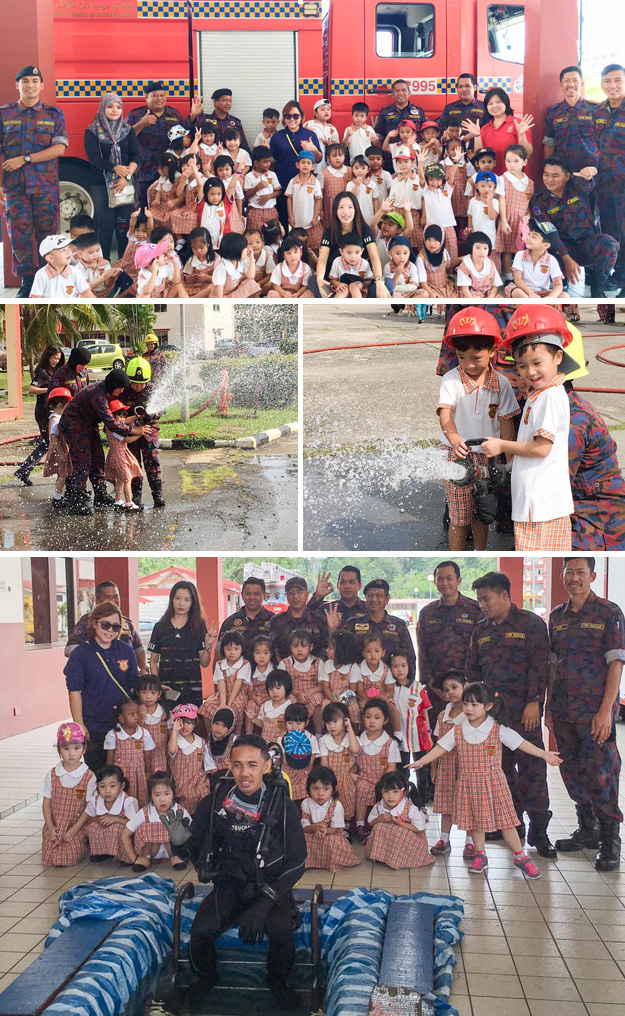 St. George's School Kindergarten department organised a field trip for KG1 children to visit the FIRE WOMEN OPERATIONAL UNITS (BERAKAS) on 27th September 2016. A total of 43 children whose ages are between 3 and 4 years old were accompanied by 5 kindergarten teachers as well as 3 volunteer parents.
We were given introductions and explanations on how the emergency operational units carry out their 24 hours service. This includes seeing how firewomen put on their fire jacket, helmet, and gloves in 37 seconds during the emergency.
The fire women gave explanations on how to use the fire extinguisher. We had our school fire drill early this year, so the children have some idea what is going on if there is a fire in the school. They are able to recognise a fire extinguisher, which was used during our fire drill.
The children were encouraged to use the hydrant hose, assisted by the firewomen. They were given chances to act as firewomen or firemen with their small helmet.
Can you link a fire fighter and diver together? A diver did a demonstration in the water on how to save life. If there is a fire in Kampong Air, a professional diver is needed to help those who jump into the water to escape from the fire.
Lastly, perhaps the most interesting part of the field trip was when our children got to climb into the fire truck and were given a ride! That's awesome fun.
The field trip ended after the photo session with the great fire fighters. We thanked the fire fighters, teachers and the volunteer parent who took time out to accompany us.
The visit to the fire station was an experience that all kids should have, not just for fun but also to learn about the safety of our surroundings.
The outcome of this trip is: CHILDREN HAVE A STRONG SENSE OF IDENTITY Children feel safe, secure, and supported - as children confidently explore and engage with the social and physical environment through relationships and play.
Prepared by: Lim Seah Lee
*Check out this event gallery by click here.