News & Events
Kindergarten Graduation & Merit Awards 2016 of St. George's School
Thu, 24 Nov 2016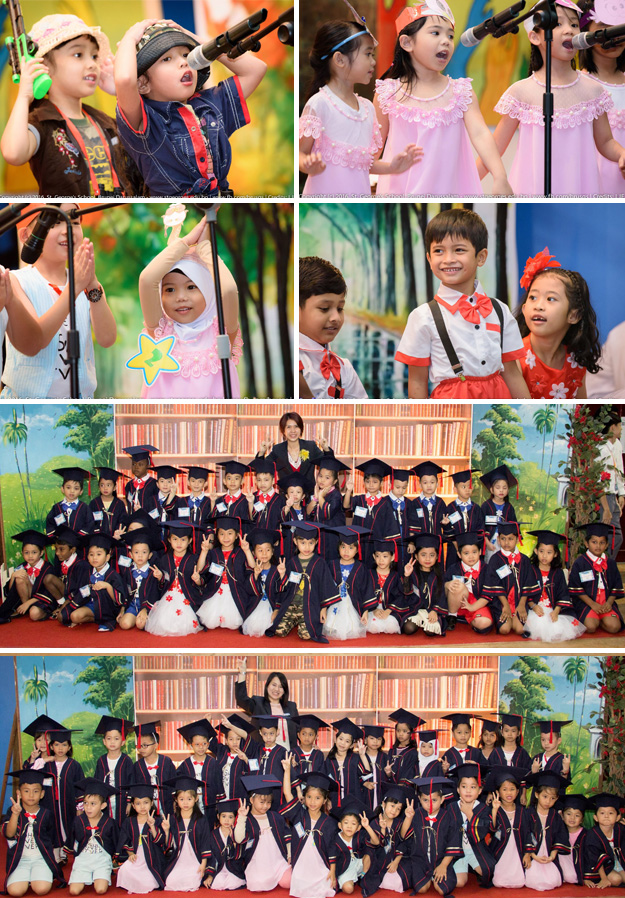 The annual Kindergarten Graduation and Merits Awards Presentation for 2016 of St. George's School, Bandar Seri Begawan was held at the Multi-purpose Hall, Fire and Rescue Department, Old Airport, Berakas on 22 November 2016. The occasion was graced by Yang Mulia, Dayang Hajah Noridah binti Abdullah, Acting Senior Special Duties Officer and Head of Private Education Section, Ministry of Education. Among the invited guests were Mr Anthony Liew Vun Chiang, Chairman of the Board of Governors, Members of the School Board of Governors, invited guests and parents. Also present were Mr Janidi Jingan, Principal of St. George's School, Mr NM Mubarak, Deputy Principal, Heads of Sections, teachers, graduating students and award recipients.
In his speech to the graduating kindergarten pupils, Mr Janidi Jingan quoted 'Graduation is a conclusion of one chapter and a beginning of another'. He congratulated all KG3 pupils for successfully completed their three kindergarten years with St.George's School and would be ready for the next phase of their education in the coming year. He stated that at St.George's School, the pupils have been nurtured, guided and equipped with the necessary skills in preparation to take further challenges as a primary pupil of the school. He hoped that the pupils would continue to work hard and to achieve excellence in their studies in the years to come.
Mr Janidi also informed that the Merit Awards was an opportunity for the school to give recognition to the top students from all classes and levels, on their outstanding achievements in academic as well as co-curricular activities. In his speech, the principal stated that St.George's School focus on an individual's limitless potential who is also provided with endless opportunities to excel in his or her respective areas of interest. The school inspire the students to be active, enquiring and resilient learners with a thirst for knowledge. To the award recipients, he encouraged them to continue to pursue their passion in both academic and co-curricular activities, to keep up the good work and aim for the best in whatever they do.
The principal also took the opportunity to thank the parents for their presence at the graduation and merit awards presentation ceremony and for playing an active role in their child's life.
The presentation of academic awards began with the Kindergarten 1,2 and 3 pupils. Graduation Certificates were then awarded to all KG3 graduates. The School Merit Awards saw students from both the primary and secondary school receiving certificates for coming in first, second and third positions in their academic year. Students who excelled in co-curricular activities that include those representing the school at national level were also duly awarded. Six students in the primary school each received certificates and a book voucher for their achievement in the Religious Knowledge subject. Dominic Cayetano Santomin, Calista Shauna Shim Chee Yen, Samuel Paul Christopher and Joyce Marian Memoracion were awarded the Leadership Awards for their service as head prefects and assistant prefects.
Performances livened up the occasion as students from Kindergarten 1,2 and 3 danced and sang. The finale of the occasion saw the graduating pupils singing their graduation song.
This occasion marked the end of a very significant phase in life for the graduates and the beginning of the next most important phase of a new life in their pursuit of a primary and secondary education. To others it marked the recognition of and appreciation for their academic and co-curricular achievements.
*Check out this event gallery by click here.