News & Events
A Visit from Chiang Mai College of Dramatic Arts, Thailand
Sat, 13 Jan 2018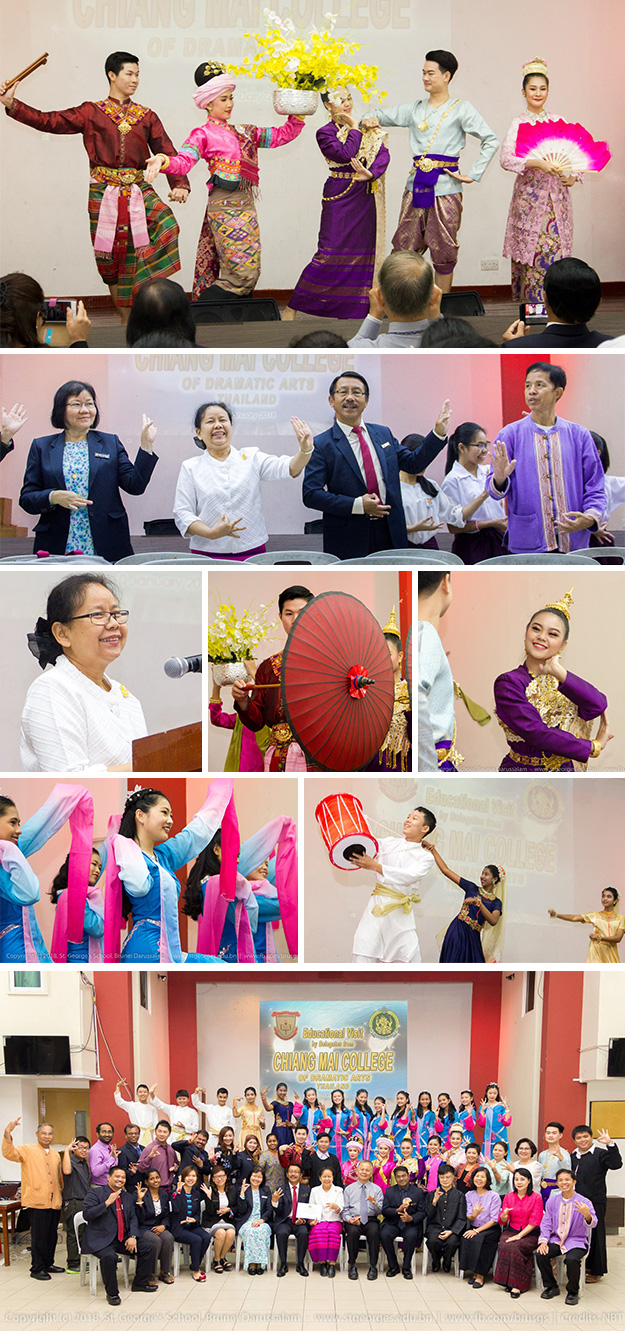 On the morning of 10 January 2018, St. George's School welcomed visitors from Chiang Mai College of Dramatic Arts, Thailand.
Upon their arrival, the visiting delegation were ushered into Parish Hall where they were warmly received by the Chairman of the Board of Governors, Mr. Anthony Liew, the School Principal, Mr. Janidi Jingan, the Deputy Principal, Mr. N. M. Mubarak, Head of Sections, teachers and students.
The Principal formally welcomed the visiting delegation with an opening speech followed by a video presentation encompassing the history of St. George's School. The Head of Delegation and Director of Chiang Mai College of Dramatic Arts, Madam Kasama Prasongchareon, reciprocated in kind, and all those in attendance were treated to an insightful video illustrating the establishment and aspirations of Chiang Mai College of Dramatic Arts.
With introductions on both sides out of the way, it was time for the cultural performances. As the host school, our students took to the stage first with a duet of Chinese and Indian dances as an expression of St. George's multiculturalism. The delegation mirrored this theme by presenting a performance entitled "The Four Corners of Thailand" that - as the name aptly suggests - showcased a brilliant display of cultural blend from the different regions of Thailand. The elaborate costumes along with the elegant sophistication of the performers held the audience in awe.
Much to the delight of the audience, the delegation then announced a short workshop on Thai costumes and dance techniques. Volunteers were selected and promptly led on stage where they were taught how to tie a sarong into traditional-styled pants known as chong kraben. Perhaps catching onto the curious and excited faces in the audience, members of the delegation then called upon everyone in the hall to join in the dance aspect of the workshop. With detailed instructions from the delegation, students and teachers alike were soon doing their best to emulate the graceful movements of the Thai performers, filling the hall with happy chatter and laughter.
After a photo-taking session and quick bout of refreshment, the morning's visit was concluded with a tour of the school. It was a brief, but undoubtedly, memorable occasion that will not likely be forgotten. The solidarity shown today demonstrates St. George's School readiness to strengthen relationships with other schools and institutions whenever the opportunity may arise.
*Check out this media gallery by click here