News & Events
Educational Visit by Delegates from Thailand
Sat, 15 Feb 2014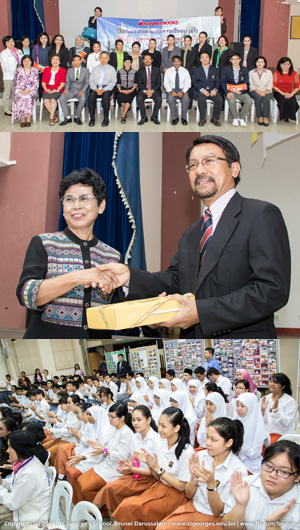 St. George's School welcomed 23 delegates from Thailand, on Wednesday 12 February 2014, who were on an educational visit to the school to find out more about Brunei's Education System ( SPN-21 ). The delegates were made up of school directors, teachers and librarians from Thailand.
On hand to greet the delegates were the principal, Mr Janidi Jingan and the deputy principal, Mr N.M Mubarak. In his welcoming address, the principal spoke briefly on St. George's School and its school community. In her reciprocal address, education consultant Dr Laddawan Kan Hasuwan, who works for Nanmee Book Publications Company, informed that the visit was made mainly because the delegates wanted to know about St. George's School and Brunei's Education System ( SPN-21 ).
The delegates were then treated to a powerpoint presentation by the Head of Secondary, Mdm Chew Lai Kwan, who spoke on the school's history which dated back to 1937. This was followed by another powerpoint presentation on Brunei's Education System or the SPN-21.
The viewing of the School History Gallery was next on the agenda and the delegates were impressed with the collection of photographs which dated back to the 1940s until the present day. A tour around the school was then conducted with the help of school prefects and teachers, with the main focus on the school library.
A light refreshment was served at the Parish Hall. The delegates then left for their next destination, leaving behind kind words of praise for our well-informed teachers and staff, and our well-disciplined students.
*Check out this event gallery by click here.