News & Events
Career Talk at SGS
Thu, 20 Feb 2014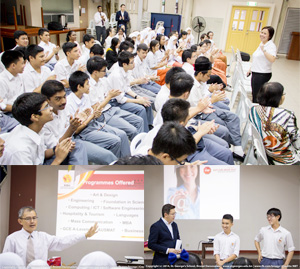 A team from Education Malaysia, headed by Mr Ahmad Shah, presented a talk on the opportunities that Universities in Malaysia can offer to students in Brunei.
In his speech, Mr Ahmad Shah enlightened the Year 11 students on the various study options that they can choose from after they graduate from their 'O' Level studies. Apart from the traditional path of furthering their studies in the United Kingdom, Australia or the United States, he informed that Malaysia also offer world-class education at affordable fees.
A representative, Ms Lai Kuen, from HELP University, Malaysia, informed the students of the various courses that the university offers and the facilities that the university has on campus. Next was a representative from KBU University College. Mr Tee spoke on the courses that KBU has to offer. Power-point presentations were displayed to highlight the courses offered and the campus ground of both centers of higher learning.
SGS students were enthusiast after the event and were glad that they were informed of their study options ahead of their 'O' Level examination this year.
*Check out this event gallery by click here.