News & Events
Cross-Country at Tasek Lama by St. George's Students
Fri, 14 Mar 2014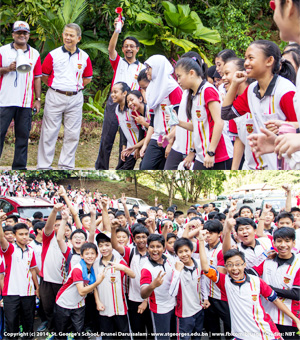 It was an exciting day for students of St.George's School when they participated in their annual cross-country race at Tasek Lama Recreational Park, Bandar Seri Begawan on March 13, 2014. The race was held to mark the end of the first school term apart from encouraging students to keep fit and healthy with physical activities.
The students also ran the race for their Sports House as points were given to each student who completed the race. Present to start the cross-country race were the Chairman of the School Board of Governors, Mr. Anthony Liew, the School Principal Mr. Janidi Jingan, the Deputy Principal Mr. N.M. Mubarak and the Head of Secondary Mrs. Chew Lai Kwan.
The categories in the race for both boys and girls were 'Above 15 years old and Below 15 years old'. The participation of the students from Year 6 until Year 11 was very encouraging and the students were in high spirits to support their Sports House.
*Check out this event gallery by click here.