News & Events
SGS Goes to Kuching, Malaysia
Fri, 28 Feb 2014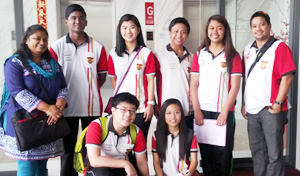 The Final Debating Competition was held in Sarawak, Malaysia at Swinburne University. There were more than 80 schools that participated in the debate from all over Malaysia and St. George's School was the only school from Brunei who competed.
On the 7th of February, the Delegation from SGS headed by the Team's Trainer and coach, Teacher Sheeba Charles, the English Department Head; Mr. Eugenio V. Mendoza, who adjudicated in the debate; and the debaters; Nathan Lim, Adrian Suhaili, Maria Kong, Alexandra, Jacklia Dakius and Mathan Chakkravarty, flew to Kuching, Sarawak, all psyched up and ready to compete. The delegation stayed in Citadine Uplands that served as the team's home for the whole week.
It was a challenge to the debaters as they were the only team from overseas and most of the topics to be debated were Malaysian issues. Despite this fact, the debaters managed to defeat a Malaysian team on the most current issue in Malaysia.
At the end of the competition, the SGS team went home not empty handed. The team bagged the MOST PROMISING DEBATERS trophy. It is a great honour to be awarded with such a title for there were 80 schools who participated and competed and it was SGS who brought home the said prestigious award.