News & Events
SGS Attends Camp QIADAH X
Thu, 20 Mar 2014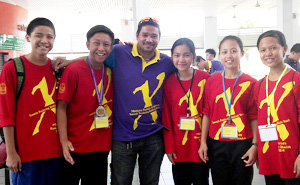 St. George's School was one of the few private schools chosen to participate in CAMP QIADAH held at Maktab Science on the 14 - 17 of March. Although it was a term break, the students, Adrain Suhaili, Samuel Paul Christopher, Ak Md Rulzaimi b Pg Hj Ramli, Wendy Aquino, Genna Roslyna and Alexandra Jacklya bt Dakius with their teacher, Mr Eugenio V. Mendoza, attended the camp. Mr Eugenio believes that a training camp such as this would greatly benefit the participants.
There were more than 200 students from different government and private schools in Brunei who gathered together and created an atmosphere of camaraderie. The St. Georgians were placed in different groups to allow them to have an opportunity to meet students from other schools. Meanwhile, the teachers were tasked to facilitate.
Exciting and 'hands-on' activities were carried out such as a visit to PENANJONG GARRISON, team building activities in BUKIT SHABANDAR and BERAKAS RECREATIONAL PARK. Visits to historical places in Bandar Seri Begawan were also part of the training as students enjoyed a simple version of AMAZING RACE also known as BSB RENDEZVOUS.
The training concluded on the 17th of March where Adrian Suhaili, a St. Georgian, was awarded, out of more than 200 participants, as the MOST ACTIVE PARTICIPANT. Meanwhile Mr. Eugene's group received prestigious awards such as BEST TEAMWORK, MOST COURAGEOUS, BEST LEADERSHIP, MOST ACTIVE and OVERALL CHAMPION.
This only proves that ST GEORGIANS excel in EVERYTHING they DO.