News & Events
Hwa Chong International School Offers Scholarship to Lau Shue Ean of SGS
Mon, 7 Apr 2014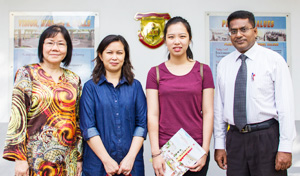 LAU SHUE EAN was a Year 11 B (SCIENCE) student of St. George's School, Bandar Seri Begawan, Negara Brunei Darussalam in the school year 2013 and had been studying at St. George's School since 2010.
In February 2014, Shue Ean became one of the top students in St. George's School, obtaining the A* grade in Chemistry, Physics, Mathematics and Principles of Accounts, a grade A in both Biology and English Language, and a grade B in Additional Mathematics and Bahasa Melayu. In the same month Shue Ean received a scholarship from Hua Chong International School, Singapore. She was offered a full scholarship to take up the International Baccalaureate (IB) Program.
Throughout her school years at St. George's School, Shue Ean was regarded as a student who was ever willing to lend a hand to teachers and fellow school mates. She was appointed by the Prefectorial Board as the 2013 Head Girl of the school and throughout her tenure as Head Girl she had worked democratically with others in groups.
In sports, Shue Ean was the Vice-Captain of the Green Sports House in 2013 and its treasurer in 2012. She represented her Sports House in various sports events and is also active in co-curricular activities such as the Badminton Club, Basketball Club and Table-Tennis Club. She also represented the school in interschool badminton and basketball tournaments.
Currently in Singapore, Shue Ean is reported to be doing well in her studies and maintains ties with her alma mater.