News & Events
Educational Visit to St.George's School by delegates from Kasetsart University Laboratory School, Thailand
Tue, 22 Apr 2014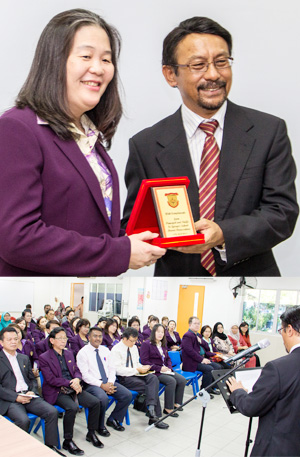 St. George's School welcomed 30 delegates from Thailand, on April 17, 2014 Thursday. The delegates were on an educational visit to the school to find out more about the school. The delegates, led by Associate Professor Dr.Sasithorn Changpakorn, were from Kasetsart University Laboratory, Thailand.
On hand to greet the delegates were the Principal, Mr Janidi Jingan, and the Deputy Principal, Mr N.M Mubarak, heads of Sections and Departments, and teachers of the school.
In his welcoming address, the principal spoke briefly on St. George's School and its school community. In her reciprocal address, Associate Professor Dr.Sasithorn Changpakorn, informed that the visit was made mainly to enable the delegates to know about St. George's School, and to learn about the country of visit in order to be able to share their experience with their students. She hopes for an exchange program involving teachers and students in the near future.
The delegates were then treated to a PowerPoint presentation by the Head of Secondary, Mdm Chew Lai Kwan, who spoke on the school's history which dated back to 1937.
The viewing of the School History Gallery was next on the agenda and the delegates were impressed with the collection of photographs which dated back to the 1940s until the present day. A tour around the school was then conducted with the delegates being invited to observe a few classroom-teaching activities in the primary section.
The delegates then left for their next destination, leaving behind kind words of praise for our well-informed teachers and staff, and our well-disciplined students.
*Check out this event gallery by click here.