News & Events
25th Secondary Sports Meet 2014 of St. George's School
Wed, 23 Apr 2014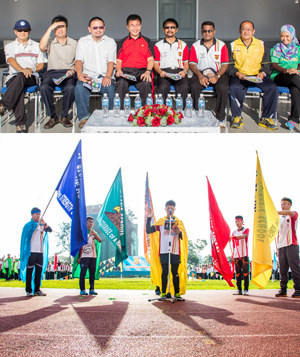 St. George's School, Bandar Seri Begawan, held its annual Sports Meet at Padang Kebajikan Stadium, Berakas last Saturday 19 April 2014. The sports meet saw the secondary level students gathered together to represent their Sports House.
The chief guest who graced the meet was Yang Mulia, Awang Roslin bin Suhailee, Acting Assistant Director, Co-Curriculum Education Department, Ministry of Education, Negara Brunei Darussalam. Also present were invited officers from the Co-Curriculum Education Department, the Chairman of St. George's School, Mr Anthony Liew, members of the Board of Governors, the school principal, Mr Janidi Jingan, deputy principal, Mr N.M Mubarak, teachers and staff.
In his welcoming speech, the principal informed that the Sports Meet is an integral part of the school's annual activities primarily because of the realization on the importance of co-curricular activities in the school curriculum as well as the physical activities in terms of the child's physical and mental growth. He spoke on how sports helps to develop a child's character, introduces to the child the virtues of team spirit and teaches him to be humble in victory and optimistic in defeat. Hence, it is important for students to strike a balance between their academic performance, participation in sports and a healthy lifestyle.
The Sports Meet got off to an up-beat start as despite the grueling heat from the sun, the students valiantly marched past the guest of honour and sang the national anthem with zest. Spirits were high as the oath of sportsmanship was taken by Ak Md Habibullah bin Pg Hj Jufri, the captain of the Yellow House.
When all races were run, the students were exhilarated when results were announced. Ak Md Habibullah bin Pg Jufri was named Overall Best Male Athlete in the Above 15 years old category while Mohd Wafiq bin Kifli won for Overall Best Male Athlete title in the Below 15 years old category. The Overall Best Female Athlete was Alexandra Jacklya bte Dakius who won in the Above 15 years old category whilst her sister Cassandra Jacklya bte Dakius was named Overall Best Female Athlete in the Under 15 category.
Prizes were given to winning athletes by the guest of honour and other invited guests. Yellow House eventually emerged as the Overall Champion House 2014 whereas Green House won for best team spirit, champion house parade and tug-of-war champion house.
Team spirit, comradeship and a great sense of pride for the school were prevalent on that day.
*Check out this event gallery by click here.