News & Events
SGS Celebrates Science Week
Wed, 21 May 2014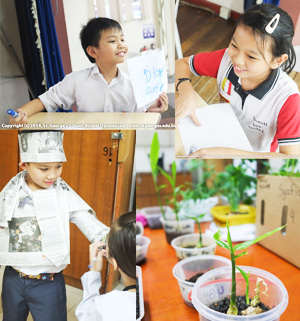 SGS Primary Science Department celebrated its Science Week from 12th May - 17th May 2014.
The theme "Healthy Me, Healthy You, Healthy Us" aims to promote the importance of healthy living by eating healthy food and doing regular exercises; enhance the students' awareness of the 3 R's (reuse, recycle and reduce) and demonstrate the importance of saving energy.
Several activities were carried out. There were various activities such as Science Quiz' per level, 'Dress-Me-Up' Contest which challenged the students to reduce the use of old newspapers and using small rolls of scotch tape to create clothes, eating healthy food during recess was encouraged and the cleanest classroom during the Science Week was also awarded a certificate. Prizes were also given to the students who were able to answer the pop-up quizzes.
With the support of the SGS staff, cooperation of the teachers and active participation of the students, the goals were achieved. The event ended with the awarding of certificates and prizes to the winners.