News & Events
'Edutainment' for Kindergarteners of SGS
Sat, 7 Jun 2014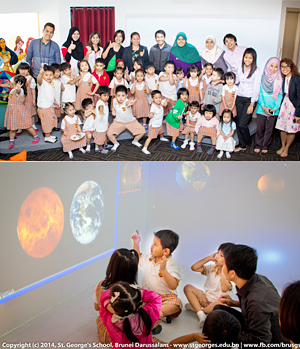 A total of 135 kindergarten students of St. George's School recently made an educational visit to 'edutainment' centre, Qidiaku, Berakas. Led by the Head of Kindergarten, Lily Sim, and assisted by all the kindergarten teachers, the trip to the centre was made on 4th and 5th June 2014. The objective of the trip was to expose the children to diverse learning domains, allowing them to experience an immersive and interactive environment which was designed by educational specialists.
The preschoolers explored the toddler's area where they learned shapes, colours and also had fun playing with Lego, blocks, and 'arts and crafts' materials. They were also amazed with the 'Universe Area' where they learned about the solar system.
Qidiaku's activity consultants, Ms Carol and Ms Laurice, expressed their appreciation and gratitude to St. George's School for choosing the centre as its activity partner for the school's educational trip this year.
*Check out this event gallery by click here.