News & Events
Pride And Joy Of St.George's School
Thu, 12 Jun 2014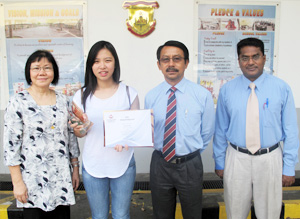 Two recipients of the 'Anugerah Pelajar Cemerlang Sekolah-Sekolah Swasta Senegara bagi Peperiksaan 'BCGCE 'O' Level Tahun 2013' or 'Excellent Students' Award for Private Schools in the 2013 BCGCE 'O' Level Examination, have brought glory and honour to St.George's School. Lau Shue Ean and Phua Shi Shuen, who were students of the school, received this prestigious recognition from Dr Haji Junaidi bin Haji Abdul Rahman, the Permanent Secretary of Core Education, Ministry of Education, Negara Brunei Darussalam.
In February 2014, Shue Ean became one of the top students in St. George's School, obtaining the A* grade in Chemistry, Physics, Mathematics and Principles of Accounts, a grade A in both Biology and English Language, and a grade B in Additional Mathematics and Bahasa Melayu. In the same month Shue Ean received a scholarship from Hua Chong International School, Singapore. She was offered a full scholarship to take up the International Baccalaureate (IB) Program. At the end of June 2014, Shue Ean will be representing her present school in a competition that will see her in Shanghai, China.
Phua Shi Shuen, another top scorer of the school, obtained the 3A* grades, 3A grades and 2B grades in the said examination. Currently, Shi Shuen is pursuing her A Level studies at the Meragang Sixth Form Centre and is making good progress too.
Other top scorers in the said examination include Roslin Begam Syed Sirajudeen, Maxwell Tan Tai Khoon, Caryl Joy N Latoja, Mohammad Ashmeer s/o Imtiaz, Mohamad Zulkamal bin Izzuddin and Roy Jules Michael Sulit Samson.
St.George's School is proud to have produced two such excellent students and the many other students who have achieved success in their studies and their career. They are indeed the pride and joy of the school as they have brought glory and honour to their alma mater.