News & Events
Top Student Shares Her Secrets
Mon, 23 Jun 2014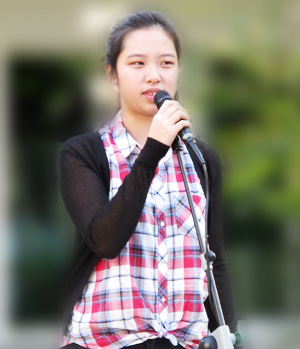 St. George's School takes pride in welcoming students who have excelled in their studies and achieved success in their career by inviting them to motivate and inspire the present students of the school in order to get them to 'reach for the stars'.
Lau Shue Ean is one of the top students in St. George's School for the 2013 BCGCE 'O' Level Examination. She received a scholarship from Hua Chong International School, Singapore to take up the International Baccalaureate (IB) Program. At the end of June 2014, Shue Ean will be representing her present school in a competition that will see her in Shanghai, China.
Shue Ean was invited to give a speech during an assembly on 23 June 2014. Below is her speech to the students of St.George's School.
'A very good morning to Mr Janidi Jingan, our honourable principal, Mr. Mubarak, Deputy Principal, Madam Chew, Head of Secondary, all distinguished teachers and beloved students.
It is my great honour to address everyone of you this morning. I graduated last year with excellent examination results in the GCE 'O' Level and obtained a scholarship to study in Singapore.
All my success and achievements is possible only because I was lucky to have such dedicated, caring and professional teachers. I also had the support from our excellent school management here in our amazing school, ST. GEORGE'S.
I am here today to express my deep appreciation to Mr. Janidi, Mr. Mubarak, Mdm. Chew and every teacher who had taught me and supported me for those past 4 years I was a student of the school.
Today I am giving back to the school by reminding all of you that we have excellent teachers and a school which supports us a lot, so do not waste your chance to be an outstanding student.
I have 3 very simple pieces of advice for you:
1. Listen to your teachers: they know what they are doing and they are experienced professionals, so you just need to listen to their advice or instructions.
2. Revise, Revise, Revise: You really need to commit your weekends to active revision work, which means you are highlighting notes, drawing mind maps, reading your notes over and over again and remember to ask for help if you are stuck.
3. Last minute studying does not work: You really need to study every day and organize your time to be fully prepared for upcoming exams.
TRUST ME, I am following the same advice in Singapore where my classmates are very competitive.
In general, if you really want something very badly, you just need to work very hard and never give up. I know it is not easy and it takes a lot of work, but the end result and experience is amazing and I am grateful for the opportunity given to me.
Once again, thank you St. George's for being the best school which has helped me so much and I know that many of you will also be successful in the future. Good Luck and All the Best.
Thank you.